Podcasts, audio contents with lots of potential
Podcasts, audio contents with lots of potential
Audience le mag
Published on 16.09.2020


Podcasts are one of the fastest-growing ways to listen to audio in recent years. Whether produced by radio stations, media brands, TV channels or other contributors, they are popular with audio enthusiasts who are looking for content that matches their interests. A wider audience is listening to these programmes, which cover an expanding range of topics.
An increasing variety of output 
There is now an extremely rich variety of audio available, as demonstrated by the development of podcasting. Audiences like having the ability to re-listen to radio programmes that have already been aired or discover content that has been created exclusively for online broadcasting, also known as original podcasts.
The range of audio on offer today covers a wide spectrum of content, formats and contributors. To Replay Radio, already well-established in the realm of audio, a wide variety of exclusive audio content is being added for very customised consumption.
Audiences have embraced  listening to catch-up radio, a practice that is increasing, and benefits from the strength of the medium: 21% of internet users listen to radio programmes every month after they have been broadcast on air, which is an increase of 9% in one year. They generally listen to them during the week after the live broadcast.
Original podcasting is taking off
French people are also listening more and more to original podcasts, a fairly new type of audio that is already familiar to half of all internet users, mainly thanks to media or their social circle. Every month, nearly 1 in 10 internet users listen in.
Rodolphe Després, Director of Research and Client Accounts at "Médiamétrie", makes the following analysis: "Output is growing as we are seeing more and more contributors getting better and better at putting out content. The Global Audio Study that we are carrying out shows that consumption is following this trend with an increase in monthly listeners of nearly 50% in one year, even though the level of audience still remains lower than those listening to radio or music streaming."
As it is a recent development, original podcast listeners have an early adopter profile. Most enthusiasts are young: 15- to 34-year-olds constitute nearly 2/3 of listeners, although this type of audio is becoming more widespread and its popularity is growing in all age groups. They are also large consumers of digital audio (online radio, music streaming, etc.). They are not replacing radio with podcasts; they are listening to podcasts as well as radio.
Listeners base their choice of original podcasts first and foremost on the subject of the content (63% of listeners) well ahead of the publisher brand or presence of a celebrity. They explore several channels to find them, largely based on recommendations from other listeners, the top ones being: word-of-mouth for 21% of podcast listeners, social media 19%, personal research 17% and finally 16% recommended by the platform used.
Listeners mainly play their original podcasts on specialist podcast apps or on music streaming services, where they appreciate the diversity of content.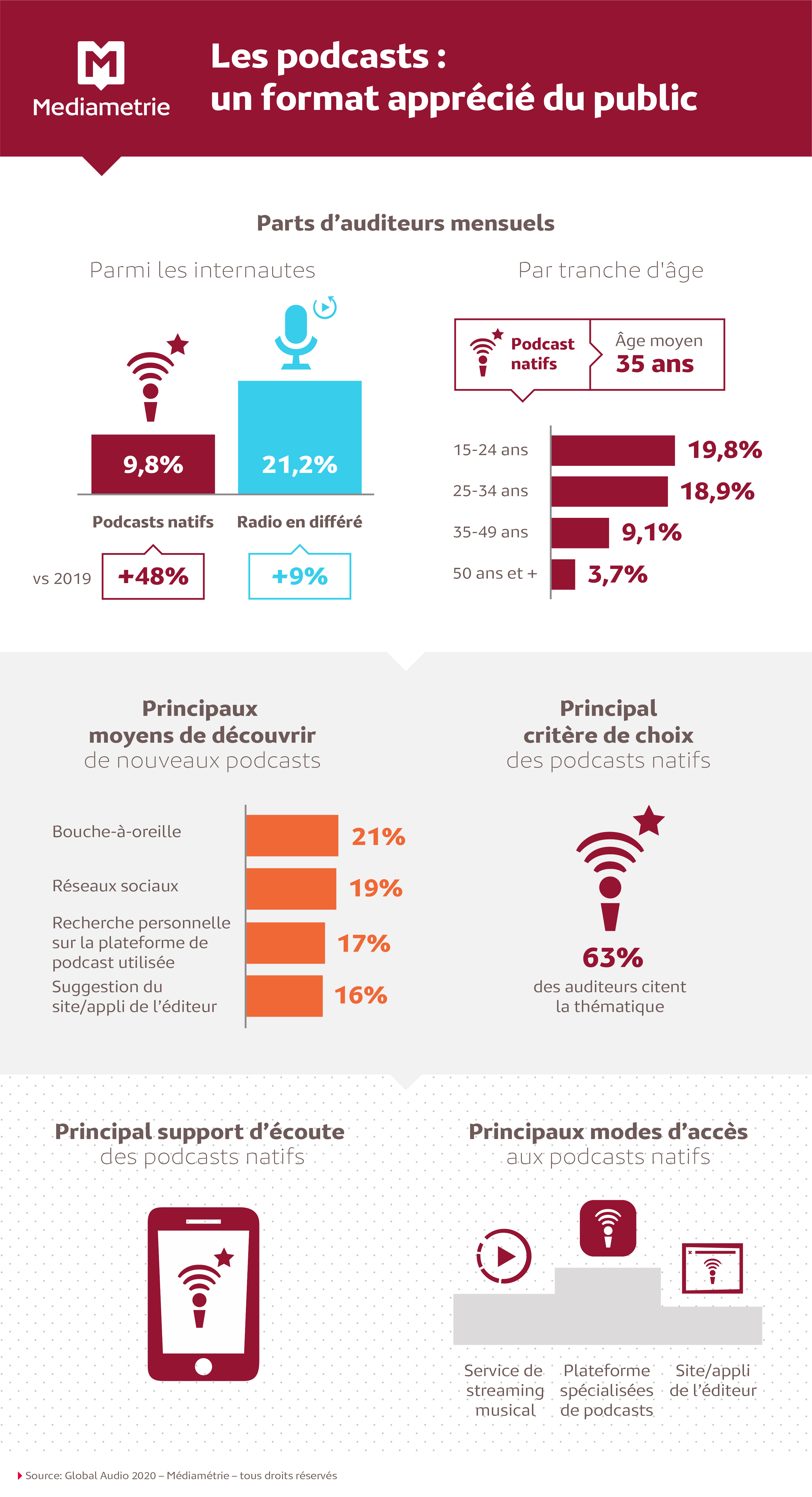 Clear growth in 2020
As proof of the growing popularity of podcasts, in the month of June 2020, more than 99 million podcasts were downloaded or streamed, based on Médiamétrie's eStat Podcast[*] measurement of publisher clients. That is 29% more than in June 2019 (on a comparable basis - same podcast publishers and same methodology). At the top of podcast subjects: news and entertainment, including comedy. Some genres have seen increasing success since the start of the year; this is true of audio content for kids & family and on the topic of parenting. Podcast listeners also enjoy culture, sport, well-being and cooking.
Olivia Brunet, Unit Director within the Internet Department at Médiamétrie explains, "We have seen a real growth in podcast downloads over the past months. By counting the downloads, the eStat Podcast measurement allows publishers to quantify the trafic, by subject, by broadcasting platform and by device. The aim is to contribute to the advertising valorisation of this type of audio and offer a neutral and certified measure."

Médiamétrie podcast measurements
To meet the different needs of their clients, Médiamétrie offers several complementary solutions to measure original podcasts and catch up radio.
The Global Audio Study gives a global overview of the listening of the different types of audio (radio, music streaming, podcasts, audio books, etc.) with a focus on catch-up radio and original podcasts.
eStat Podcast is a proprietary measurement that counts podcast downloads and provides daily feedback with a very fine level of detail (by programme, by episode, etc.).
Finally, Médiamétrie also offers a new measure of proprietary audience for recorded radio and original podcasts. Based on bespoke audio measurements, this provides subscribers with key indicators on their own brands' audience: number of listeners, volume and hours of listening, listener profiles. 
Laure Osmanian Molinero
We asked the opinion of two key players in French podcasting, who are both clients of Médiamétrie:
Emmanuelle Henry, Director of Research and Forward Planning at Radio France
What role do original podcasts play in Radio France's product offering and how would you like to develop them?
Since 2005, Radio France has seen the potential of this type of audio and offers a catalogue of podcasts, which includes programmes that are broadcast on our 7 stations, as well as original podcasts. Today we offer more than 1,000 programmes, in other words we have 1.5 million recorded or original episodes available, with extraordinary richness and depth of content: from comedy to philosophy, including reports, fiction, or local programmes... listeners' appetite for them is growing and 80 million Radio France podcasts are now being downloaded every month. Original podcasts benefit from the expertise and know-how of Radio France teams and offer them a new freedom. This is also the opportunity to target different audiences. For example, our range for children: Oli et les Odyssées (Oli and the Odysseys) produced by France Inter, or Salut l'Info (Hi News), produced by franceinfo, which explains the news to our youngest listeners. In a few days we are even going to launch a daily news podcast, which the different radio stations in the group are working on together, each bringing their know-how and expertise!
How do you explain the audience's appetite for these types of audio?
Podcasts are perfectly adapted to today's society, to the "on demand" lifestyle: listeners want to be able to choose when and how they listen to their favourite content, live or not, and access a certain historic depth for their favourite content.
As for audio, it's a fantastic and exceptionally rich medium! Studies show us that our listeners are particularly attached to it. Podcast enthusiasts like this type of audio for several reasons: some enjoy listening as they go about their daily activities. Lots of them tell us that, without a screen, the experience is richer and more intense, they constantly have to use their imagination, and concentrate on the main points...
It is also the opportunity to discover unique experiences, thanks to immersive audio and in particular binaural sound. It's a technology that reproduces natural listening and puts you centre stage, so to speak, for a whole new audio experience. And you don't need any specific equipment. You can use your usual headphones. Original works of fiction by France Culture and the Fip 360 podcast series are available in binaural and constitute a unique range of podcasts that we are particularly proud of.
Vladimir KLIMOV, Director Strategy and Content at Deezer France 
How do you explain the growth and audience interest in original podcasts?
Firstly what's available is improving every day and we have more and more quality content.
Moreover, the Médiamétrie Global Audio study shows that word-of-mouth and social media are still the main source of podcast discovery. It has to be said that it is a platform that lends itself perfectly to sharing and discussion. Thanks to a podcast, you can learn, be entertained, go on self-discovery, and share your experience. 
For a while, there has been a certain "fashion" for podcasts among the 15- to 34-year-old sector.  Today, it is more and more unusual that a person doesn't listen to at least one podcast or doesn't recommend one. 
The lockdown has also had a very positive impact on podcast listening. The population had more time, apart from commuting instead of working-at-home, to explore what's available and find podcasts that they like.
In summary, today we are evolving from the podcast for all to the podcast for the individual.  
What are your key areas of development in this sector and how do you promote this type of audio to your users?
There are two aspects to our strategy: we offer our users the best exclusive content called "Deezer Originals" and a catalogue of relevant and engaging podcasts listed by subject.
In the first of these, nothing is off-limits. Since launching our original productions in 2016, we have covered lots of different areas with an "experimental" attitude. Obviously, music is still our day job and our Originals music-based podcasts such as "Tracké" or "Jour de sortie" manifest this legitimacy in speech format, so we will continue going in this direction. In particular, we want to work on the best concepts with the best talent.  
For example, What we have produced with the great Benjamin Tranier, based on his idea, has open the way to other collaborations with other emerging artists. The success of Gang Stories, narrated by Joey Starr also give us confidence in our choices. We are also continuing to enhance our series of documentaries.
Every day we receive proposals, ideas and concepts that are always more interesting or innovative.
With regards to our catalogue, we are working closely with podcasters to offer our users the best content at the best time. We are supporting producers with their advertising by launching targeted CRM campaigns, organising the catalogues by subject and by genre, recommending podcasts to users depending on their history and listening behaviour. Everything is being done to help users discover our content based on their preferences and proposed by independent producers.
There is a real appetite for podcasts, and for good reason, and Deezer will always be at the forefront of this movement. 
---
[*] The current subscribers to the eStat Podcast measurement are: CMI
France (ELLE), France Télévisions, Lagardère News (Europe 1), M6 RTL (RTL, RTL2 and Fun Radio), NextRadioTV (RMC, BFM Business, BFMTV) and Radio France (France Inter, France Culture, franceinfo, France Musique, France Bleu, Mouv', Fip).