Watermarking - a technological innovation for television audience measurement
Watermarking - a technological innovation for television audience measurement
Adopted in 2008, watermarking now allows Médiamétrie to measure over 130 television channels on a daily basis. This technology has also been tested in audience measurement away from the home.
Published on 25.10.2016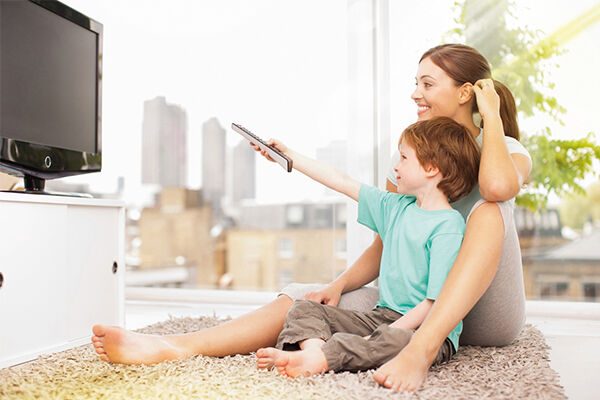 The growth of TV reception via cable, satellite and especially broadband has made gathering audience data increasingly complex. Therefore, in 2008, Médiamétrie decided to use watermarking. This channel identification technology is based on the insertion of a digital tattoo into the programme audio and it can overcome some of the technical constraints associated with developments in reception methods. Watermarking is also used in Personal Portable Audience Measurement research, for the automatic measurement of radio listening and television viewing, in particular away from the home.
Watermarking consists of inserting an audio tag that is inaudible to the human ear into the programmes of television channels. This tag, known as a watermark, identifies the channel broadcasting the tagged programme in addition to the date and time of broadcast. Tagging is done in the broadcast control rooms of the channels. Audience meters installed in panellist households detect these signals.
Watermarking distinguishes between live and pre-recorded viewing: It detects any time lag between the scheduled time and date of a programme broadcast (contained in the watermark) and the actual viewing time, as identified by the audience meter. Thus from 2011, Médiamétrie's benchmark television audience measurement, Médiamat, included audiences watching programmes in time-shifted and pre-recorded modes. Then in 2014, Médiamétrie adapted watermarking technology to take catch-up TV audiences into account as well.
We can see then how this technology enables continuity of television audience measurement in an evolving environment. Nowadays, watermarking is used in the production of France's benchmark television audience measurement and all of its associated services: Médiamat National Quotidien, Médiamat Editeurs and Médiamat'Thématik. With this technology, Médiamétrie can measure some 130 television channels every day.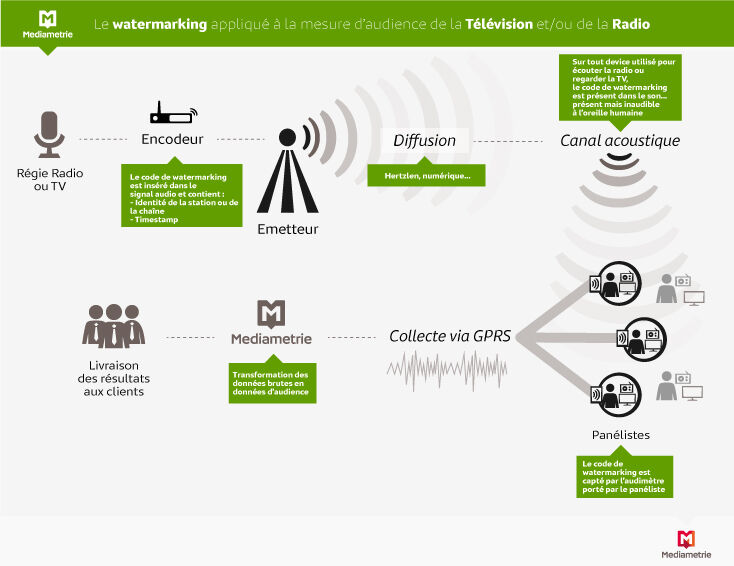 Application of Watermarking to Radio and Personal Portable Audience Measurement
As part of its research efforts, Médiamétrie developed an automatic Radio and Television measurement solution called Rate On Air, which is based on watermarking technology. Amongst other things, it can measure television channel and radio station audiences outside of the home.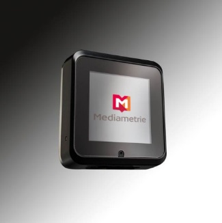 Wherever the panellist goes, a miniature audience meter worn by them continuously detects the watermarks built into the audio of programmes from channels and radio stations. This audience meter, which was developed by Médiamétrie, is the smallest in the world: 4.4cm x 4.4cm x 1.5cm and weighs under 40g.
This Personal Portable Audience Measurement solution was intended to complement current television and radio audience measurement, and was trialled in a pilot project involving 750 panellists in Ile de France that measured over 60 TV channels and 38 radio stations.