French people are masterfully orchestrating their digital media and entertainment practices
French people are masterfully orchestrating their digital media and entertainment practices
Audience le mag
Published on 20.07.2020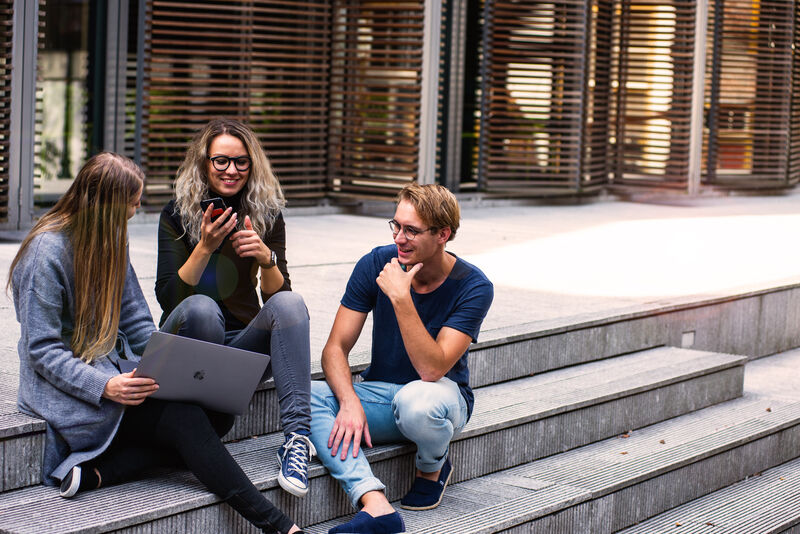 French people have widely adopted the practice of digital media and entertainment, particularly when they are on the move. So much so, that these practices have now reached a kind of stability and maturity; now it's more about when and how people use the different screens available to them. Analysis with Médiamétrie's Media in Life study.
The rise of the smartphone
In 2020, in France, households have an average of 6.4 screens, compared to 6 screens 10 years ago. The devices that have increased the most are mobile phones (+17%), desktop computers (+33) and especially laptops (+111%). Tablets also appeared in this period. Almost all French people (93%) own a television[*].
Jamila Yahia Messaoud, Director of Médiamétrie's Consumer Insights Department, said the following: "the arrival of smartphones was a major change in practices by offering continuous internet access, with efforts being made to secure data and adapt the content offered to the mobile screen. Users have fully adopted this device. However, other screens still have an important place."
Although they have more screens, French people have a steady practice over 10 years of digital media and entertainment as a whole: in 2019, each French person had an average of 45 media and multimedia contacts per day. These contacts concern Television, Radio, Press, Internet, Cinema, Video Games, Video, Music, Telephone (mobile and on the Internet).
"Media and multimedia content are now available on the internet at any time and on several screens. They fill certain quiet times, such as when people are on public transport, but the time available is not infinitely extendable, we are partly seeing a transfer of their consumption from physical media to digital media", Jamila Yahia Messaoud said.
While overall usage remains stable, the Media in Life study reveals changes depending on the types of practices, particularly in digital entertainment: playing video games and watching videos have increased over the last years. Mobile phones dominate thanks to the development of the content offered, as well as their availability throughout the day, whether to make calls or surf the Internet. Overall, in 2019, more than 3 out of 4 French people (77%) engaged in digital entertainment every day - music, video, video games, mobile phones. These activities are more successful when people are younger: on average, nearly 85% of 13-24 year olds use them during the day.
The traditional media - television, radio and the press - are also still very present in the lives of French people: on average, 94.1% of them consult such media every day. Television and radio alone account for almost half of French media and multimedia contacts.
The Internet is used more and more as a media activity, with almost one in 4 people (24.2%) using it for this purpose. The vast majority of people have a diverse media activity: more than 8 out of 10 people are in contact with at least two types of media on average during a day. And 1 in 4 people (26%) use 4 or more types media of media during a day.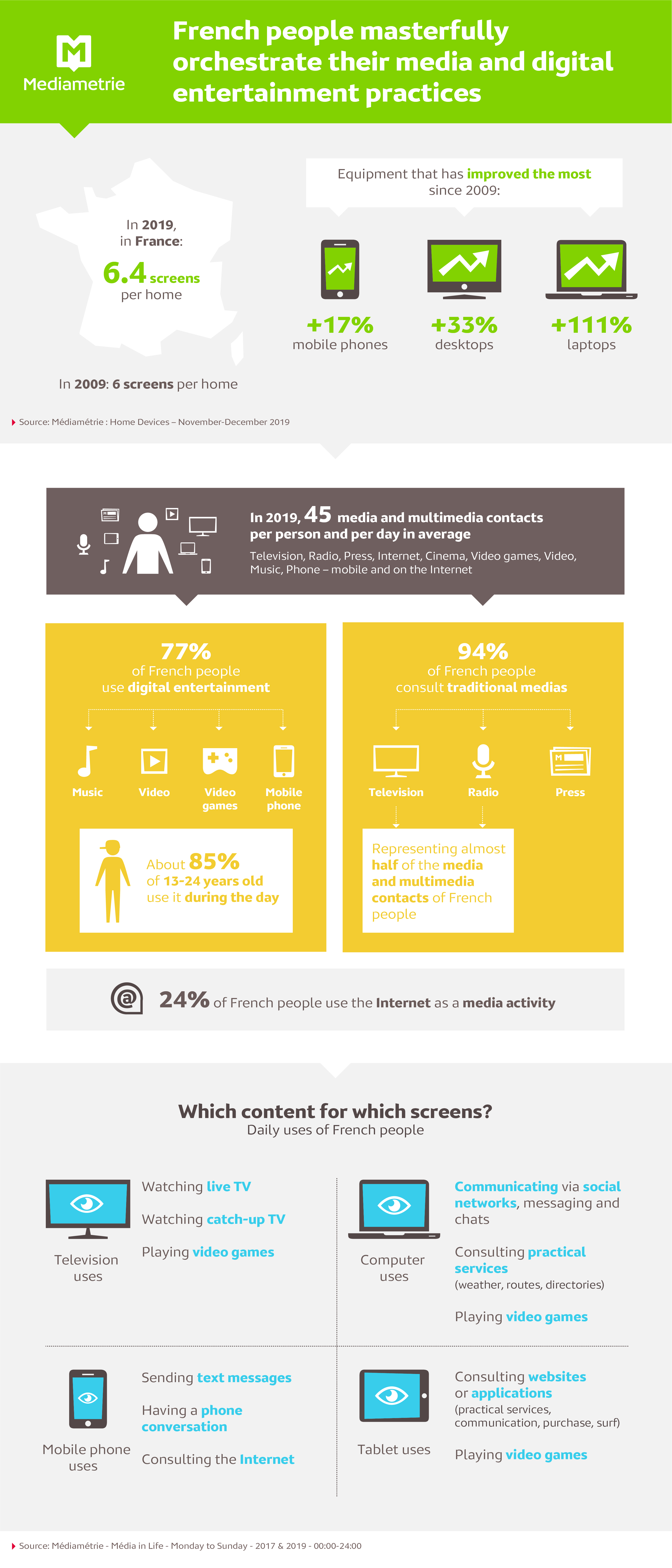 A choice of screens depending on the context
Context plays an important role in uses: inactivity or mobility, personal or collective consumption, etc. Television and radio on traditional media are therefore part of a logic of peak audiences, corresponding to meeting times: at home at midday and in the evening for television, often on the move in the morning for the radio. These unifying media have the ability to attract massive audiences. They are often joint audience for television: between 8 p.m. and 11 p.m., the majority of viewers watch television as a couple (between 20 and 22%).
Conversely, the digital practice of digital media and digital entertainment on a computer or mobile phone, which is more individual, occurs continuously throughout the day, as needed, with slightly more mobile phone use between 9 a.m. and 11 a.m., and between 5 p.m. and 7 p.m. Mobile phones are most viewed outside the home between 10 a.m. and 5 p.m. "Mobile phones have the particularity of also being used in a sedentary situation at home because they can be the only screen in the home and also because of their ease of access", Jamila Yahia Messaoud noted.
Similarly, French people watch more television at weekends (15.2 daily contacts) than during the week (14 contacts), while they use mobile phones and computers more intensively during the week: 9.2 contacts vs. 7.8 for phones, 7.1 vs. 6.1 for computers. They use their tablets halfway between fixed and mobile screens, with equivalent use during the week and at weekends (1.2 contacts).
Which content for which screen?
French people also choose their screens according to the content they want to watch or listen to. Television sets are therefore primarily used for watching live television: 70.3% of French people watch live television in the course of a day. Next comes catch-up TV, which is most used by women, 35-64 year olds and upper SPC. In third place are video games on TV sets (4.1%), whose users are mainly men and young people aged 15-34.
Internet users largely use computers to communicate via social media, messaging, and chats: 24.3% of French people, and more particularly upper SPC and 35-64 year olds. 18.7% of consult practical services (weather forecasts, routes, directories, etc.), particularly senior citizens. 8.1% play video games. It is above all young people, 15-24 year olds and to a lesser extent 25-34 year olds, who listen to music and watch free or paid videos on computers. Listening to music is also on the increase on this medium.
In everyday life, French people primarily use their mobile phones to communicate: send text messages and have telephone conversations. Then comes Internet consultation, listening to music, and watching free videos. Listening to the radio and reading the press on mobile phones are more popular with upper SPC. Media and digital entertainment are generally on the rise on mobile phones.
"Communication is becoming increasingly important thanks to the proliferation of dedicated platforms and the fact that most of them are free. Text messages are now largely used for brand communication", said Jamila Yahia Messaoud.
Finally, users use tablets to consult websites or applications: practical services, communication, shopping, surfing.
Jamila Yahia Messaoud concluded: "the Media in Life study confirms the maturity of media uses, with more individual practice. No new players or devices that could transform uses have emerged recently. In this model, it is supply that causes demand. The question is, what will the next novelty be, and when will it appear? What changes in uses will it cause? Moreover, the lockdown period was the opportunity for some people to discover new uses or intensify their practices. Will they last? Some of the probably will. The next wave of research will shed some light on this."
[*] Source: Médiamétrie - Home Devices – November-December 2019