Big Data technology driving talent at Médiamétrie
Audience le mag
Published on 02.04.2020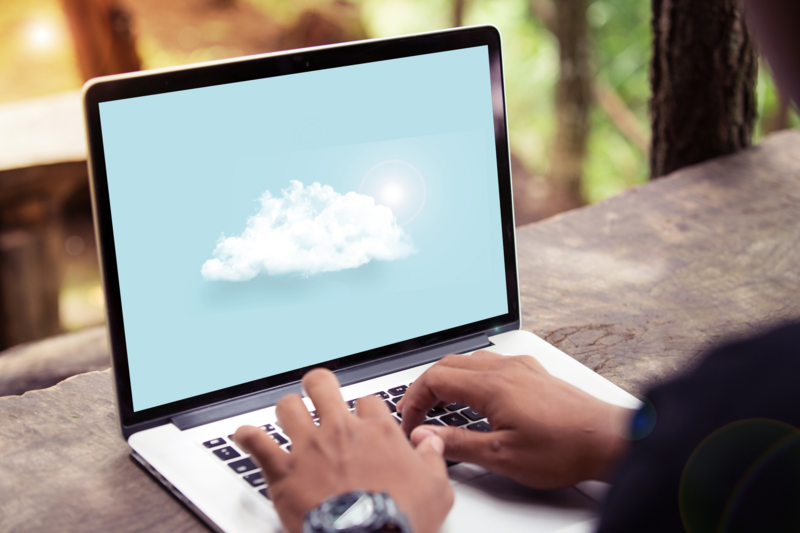 With the emergence of the cloud and the processing of vast quantities of data, jobs in IT now evolve constantly and at high speed. These roles need to adapt even faster in the media sector undergoing rapid change. Information Technology (IT) is crucial at Médiamétrie, a company that has taken innovative strides in this field and which provides its teams with the training necessary to meet the challenges of the future. Under the unique circumstances of the lockdown, Médiamétrie's Information Systems Department (DSI) has swiftly implemented the necessary measures to ensure business continuity through the health crisis.
Audience measurement backed by agile method and cloud computing
Information Technology is central to what Médiamétrie does since the majority of the business involves producing audience measurement in television, radio, the internet and cinema, together with all the studies conducted into media, other cultural leisure activities and public behaviour across all industries. The Information Systems Department is constantly innovating to keep up with the fast-moving change and transformation in the media universe and in the behaviours associated with it. To that end, as early as 2009, Médiamétrie's Information Systems teams had adopted agile principles that enabled them to deliver developments in measurement systems within a very short timescale. In addition, they were swift to grasp the opportunities offered by cloud computing technology and to put these into use from 2012 onwards.
Cloud computing meets the needs of Médiamétrie which, due to the evolution in audience measurement, processes increasingly large volumes of data. This phenomenon is linked to the development of exhaustive measurement and hybridisation (combining panel data collected by Médiamétrie with site-centric data): measurement of streaming, 4-screen TV, Internet Video Audience and Total Internet Audience. Médiamétrie processes more than a billion pieces of data daily. Beyond storage capacity, the cloud offers another distinct advantage in that its intrinsic elasticity can instantly handle variations in data volumes. This is especially true during an unforeseen peak in streaming usage linked to current events: the cloud adjusts the volume to need, and then returns to standard capacity once the event is over. In computer jargon, this is called "scalability". The entire processing chain is adapted to the significant increase in data flows so as to ensure service continuity to users. Moreover, the Cloud service provides very high availability by boosting i.e. duplicating the service over multiple regions and countries, guaranteeing continuity even if an issue exists with one server. This means that it is no longer necessary to have several production lines running in parallel to guarantee the very high availability that is essential for productions.
Patrice de Flaujac, Médiamétrie's Director of Information Systems stressed: "Médiamétrie was one of the first French companies to employ cloud computing to host its strategic Big Data applications in production - for example streaming - and to adapt the data processing chains to its requirements. This approach means that the company is acknowledged to have a head start in this field as it has frequently been an early tester of cutting-edge services." For instance, one element that Médiamétrie tested was the transit gateway linking its Data Lake* to the SAS** statistical analysis software. In another example, the IT architects at Médiamétrie tested the beta version of Lake Foundation, Amazon Web Service's Data Lake.
To get the most out of the technology offered by the cloud, Médiamétrie has completely overhauled its IT architecture. Thus, DSI has developed a services-oriented architecture, which means no longer designing the entire application or software, but rather interlinking several specialist applications. The great advantage of this approach is that with each update, the entire application does not need to be overhauled, only the part in question.
Patrice de Flaujac added: "Using this approach, Médiamétrie can very quickly add value for its customers in a media sector that is particularly dynamic. Médiamétrie has proven its agility and is able to transform itself at pace to keep up with the rapidly changing technology." To that end, Médiamétrie occasionally implements "hidden" changes that are ready for activation as soon as the market wishes.
Médiamétrie streaming measurement cloud architecture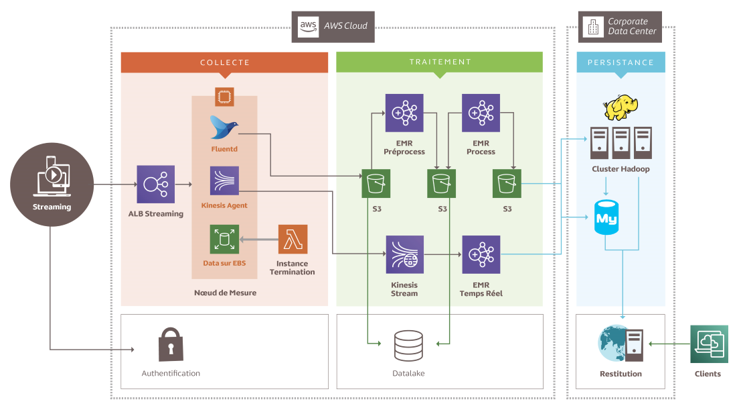 New job roles for computing
The services-oriented architecture entails profound changes in how teams work, whether for developers or for production infrastructures. We no longer develop an entire application, but instead different services are integrated, and that requires a fresh look at how programmes are coded. Systems are required to evolve very quickly, and enter production fortnightly. Accordingly, the teams who guarantee the reliability of the systems need to be very adaptable.
Patrice de Flaujac specified: "Médiamétrie has embarked on a total upskilling of the DSI team, the equivalent of 145 full-time employees. We are able to do this because our company is small in size. This approach is in addition to developments already in progress as part of adopting the agile method, aiming to promote systems change by ensuring that the changes are dependable."
This has led to the creation of new jobs and the implementation of new working methods. Scrum masters or agile coaches have been appointed to facilitate the mobilisation of teams, the achievement of objectives, and adherence to commitments. Their vocation is to foster team spirit and create a collective intelligence.
Two new functions have been created at Médiamétrie that are related to the use of the cloud and services-oriented architecture. DevOps: production teams who also possess development skills to design architectures in the cloud. These production teams practice infrastructure as code. According to Jonathan Guyon, a Production Engineer at Médiamétrie: "DevOps is first and foremost a way of working that allows you to integrate someone who works in operations into a team of developers. With origins in the manufacturing world, this new way of working has enabled me to have a better understanding of the issues that developers encounter. I am present from the very beginning of projects and I take a more cross-departmental view. In addition, this approach means that we can spread best practice and recommendations related to production at the earliest stage possible in the development of a new application. I am part of a team in which collective spirit is very important."
The second new function is FinOps: architects come up with solutions that will optimise economic and technological performance according to customer needs. Sadok Arouba, IT architect, specified: "This role requires constant surveillance of technology in order to take advantage of the new technical services and commercial offerings of the cloud. One of the cloud's important contributions to the world of computing relates to the financial component, with the emergence of the model known as "pay-per-use". The optimisation of this usage is an ongoing requirement if we are to keep the costs of the cloud under control. Mastery of the technical architecture and knowledge of financial management are both required. The specific nature of FinOps at Médiamétrie stems from our desire to have FinOps facilitate technological innovation. In other words, the desire to keep the costs of the cloud under control must never act as a brake or an obstacle to ongoing evolution and innovation in our IS."
Computer security job functions have also expanded significantly, requiring increased expertise in this field. Systems engineers and network engineers in particular are called upon to become security engineers.
In the context of agile methods, Médiamétrie has set up Product Owners. They set the priorities for the teams who develop technical products such as data collection or panel management, and they form the bridge between the business side and the technical side of the project.
To train its teams in these new roles, Médiamétrie uses external training and also enlists the experts in these new methods and technologies. Today, Médiamétrie brings together a broad range of highly innovative experts, which is evidence of its head start in cloud computing. Its teams based in Sofia Antipolis are real experts in site-centric, streaming and Big Data.
Fun events are also part of training, such as Game Days, an event that mobilises Médiamétrie's technical teams around a fictional but realistic scenario. Conducted in coordination with AWS teams, this exercise elicits and stimulates analytical, response and problem-solving skills in the face of malfunctions that could occur in production environments.
The expertise of Médiamétrie's developers was recently recognised in the rankings compiled by CodinGame and revealed in Forbes magazine: Médiamétrie was named the No. 3 French company in the field of IT talent. CodinGame is a platform which lets developers from around the world use games development to learn and improve their coding skills for free.
Such changes provide a number of prospects for employment. Patrice de Flaujac concluded: "In support of Médiamétrie's innovative approach, the company is open to talented candidates with passion, creativity and daring who are ready to try out the new job roles within the media universe."
DSI rallies to the call under exceptional circumstances
During the current lockdown enforced by the global COVID-19 epidemic, Médiamétrie's Information Systems Department (DSI) is playing a crucial role in keeping employees connected through IT tools. IT teams are heavily mobilised to enable all employees to continue their jobs, working from home. Such remote working was already in place at Médiamétrie, with solutions that have helped us to pre-empt the information system. The challenge for DSI has been to transition from a marginal working from home culture to a mainstream one. To that end, Médiamétrie is using the latest in computing technology that enables exchanges via chat or video. The company is also utilising cloud workspaces, which in a very short time have enabled employees to avail of a home working environment similar to being at the office, reducing the pressure on VPN flows. Médiamétrie's close working relationship with AWS brings the benefit of advice and new solutions. Currently, DSI is putting the final touches to building virtual PCs in AWS so that employees do not have to travel to work premises in the event that a computer goes down.
Activity at our survey sites, in particular radio audience measurement, has been suspended in order to ensure the safety of the interviewers. However, given that Médiamétrie's production of TV and Internet audience measurement is automated, these activities can continue at their normal levels during the lockdown. All of these industrial productions can be and are managed remotely.
Laure Osmanian Molinero
* Lorie Dudoignon, Director of Innovation and Projects within Médiamétrie's Data Science Department defines a Data Lake as "a secure warehouse of immutable raw data that is unprocessed for the most part, which provides a source for exploration and analysis of the data." Médiamétrie's Data Lake centralises the audience data collected via its measurement systems.
** SAS stands for Statistical Analysis System. Programming language to create and manage databases, their analytical processing, and the generation of summary reports.