Online trading of second-hand goods confirms its strength
Online trading of second-hand goods confirms its strength
Audience le mag
Fashion, furniture, and technical products are the driving force of second-hand trading online. Médiamétrie has recorded nearly 2/3 more visitors in 4 years on these categories of websites and apps.
Published on 21.12.2022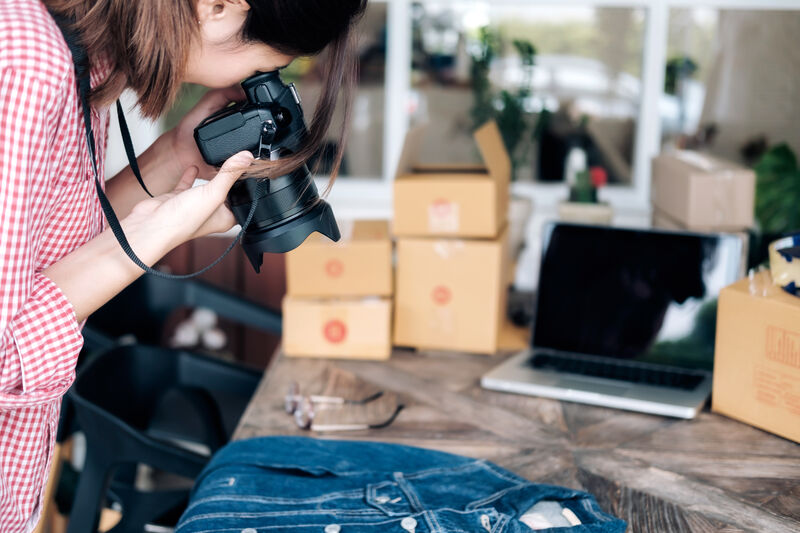 Estimated reading time: 6 min 12 s
Fashion, furniture, and technical products are the driving force of second-hand trading online. Médiamétrie has recorded nearly 2/3 more visitors in 4 years on these categories of websites and apps. Is buying and selling second-hand goods online becoming a way of life? Are environmental concerns playing a role in this trend? Médiamétrie detects and deciphers the growing use of digital technology in France and became interested in this phenomenon, which it analyses through the Total Internet Audience measurement and the Web Observatory study.
Fashion leads the way for second-hand items online
According to Médiamétrie's Total Internet Audience Measurement, in September 2022, 24.4 million unique visitors[i] browsed websites and apps selling second-hand goods, in the 3 main categories: fashion, used furniture and refurbished high-tech items. This represents almost 4 in 10 French people. The progress is striking: +63% in 4 years. While half of 15-49 year olds visit these websites, Internet users over 50 are also getting into them more and more: in September 2022, more than 1 in 3 visited these websites and apps, up from 1 in 5 in September 2018.
Fashion is the most dynamic sector in the field of second-hand goods. In September 2022, 18.7 million Internet users consulted a website selling second-hand clothes, i.e. nearly 30% of Internet users. This figure is steadily increasing and has more than doubled in 4 years. This craze is reflected in the growth of certain websites, particularly Vinted (+163% in 4 years), but also Leboncoin Mode and Vestiaire Collective.
The second area in which second-hand goods abound is furniture, with 11.2 million unique visitors in September 2022 (nearly 18% of Internet users), an increase of 45% in 4 years. Leboncoin Maison leads this category with 10.6 million unique visitors (+48% in 4 years). The Selency and Label-Emmaüs websites are also seeing strong growth.
The third category for second-hand purchases is refurbished high-tech items, whose websites attracted 3.4 million Internet users in September 2022. These websites have seen a 25% increase in 4 years. Backmarket and CertiDeal are the main websites in this sector.
Women represent the largest proportion of visitors to fashion (3 out of 4) and furniture websites. Men are in the majority on refurbished high-tech websites (58%).
In the words of Bertrand Krug, Médiamétrie's Digital & Press Director: "second-hand trading is becoming more and more a way of life, depending on a set of factors, not just financial ones. Managers and higher intellectual professions are the main visitors to these websites, more than 1 in 3; the intermediate socio-professional categories represent 27.4%".
On all of these websites, Internet users increasingly connect from their mobile phones. This was the case for more than 8 out of 10 Internet users (84%) in September 2022, compared to 6 out of 10 four years ago. 1 out of 5 connects from their computer, they were 40% in 2018. 1 in 10 connects on a tablet.
Second-hand trading online driven by an eco-friendly approach
Faced with the increase in the sale of second-hand goods online, Médiamétrie is examining this practice in its Web Observatory study, which detects and measures digital uses. In the 2nd quarter of 2022, 22.5 million[i] Internet users - 45% of them - sold items on second-hand websites or auction websites in the past month. They were 16.4 million 2 years earlier. The 25-34 age group is the most active in online sales.
During the second quarter of 2022, 8.5 million Internet users, i.e. just over 1 in 3 (35%), made purchases on websites and apps selling second-hand goods in the past 6 months. Therefore 21% more people use these purchases than 2 years ago. There are more women: 39% of them compared to 32% of men. 35-49 year olds are the ones who do it the most: 42% of them use it. They are followed by 15-24 year olds (39%) and then 25-34 year olds (39%).
The upper socio-professional categories are the most inclined to sell second-hand products on the internet (56%) and the intermediate categories are a little more likely to buy (42%). A large proportion of students (47%) as well as parents of children under 15 (61%) are active in the sale of second-hand goods online.
Charlotte Leboucher, Director of Research at Médiamétrie, says: "While people's motivations vary, environmental concerns tend to increase for second-hand purchases. In the 2nd quarter of 2022, 10.4 million Internet users say they have already bought refurbished second-hand technical products online, with the aim of reducing their ecological footprint on the Internet. They were 7.9 million in the last quarter of 2020."
Laure Osmanian Molinero
3 questions for Baudoin Masse Baudet, Head of Studies at Leboncoin
How do you analyse the progress of second-hand sales?
We have indeed seen a continuous increase in online transactions on the leboncoin website and app since this feature was deployed on our website in 2019. This trend has even tended to accelerate over the last few months. For example, in the home sector (furniture, household appliances, DIY, gardening, etc.), these transactions grew by +17% in one year and even by +28% in the second half of the year. And in this period of preparing Christmas presents, the momentum promises to be ever stronger since the first weekend in December was marked by an absolute record of visits to our Games-Toys and Decoration departments, among others.
In addition to the many efforts made on the user experience to facilitate online transactions on our website, this trend is explained by a dual phenomenon. On the one hand, there is the will of the French people to save money in this period of inflation and high uncertainty about purchasing power by buying cheaper products that they can find second-hand rather than new and by reselling products they no longer use. On the other hand, there is a more structural trend linked to the French people's desire to embrace more responsible consumption. Consumers are increasingly engaged and aware of the environmental and social impact of the products they buy. The use of the circular economy and of the leboncoin website responds fully to these aspirations.
Are there typical seller and buyer profiles on your website?
With 28 million unique monthly visitors, the users of leboncoin are a mirror image of the French population, with a profile fairly close to that of the "average French person".
These users view ads from universes as varied as cars, real estate, seasonal accommodation, consumer goods such as clothing, bicycles or small household appliances, for example. There are therefore a large number of seller and buyer profiles on our website, depending on whether one is looking for the implying purchase or the more common purchase. Our data teams work on a daily basis to identify these profiles based on our users' browsing and to build data segments for insights and activation. We have almost 2,000 seller and buyer data segments with socio-demographic, behavioural, intentional, life moments, persona profiles, etc.
There are still "typical" user behaviours depending on their length of time on the website, for example, or their frequency of use. New buyers are more interested in finding a rare gem within the framework of a functional purchase... while regulars are also sure of buying pleasure, with a greater desire to find a bargain. 
How do you use the audience data from Médiamétrie?
Médiamétrie audience data is used daily by the Leboncoin advertising division.
This highlights the leadership of our website in its universes compared to other websites in these same universes to advertisers, both nationally and locally. They can also be used to cross-reference our audience with that of other websites to highlight our audience's appetite for a specific theme or brand.
The leboncoin group's communication teams also rely on this data in the context of our advertising campaigns, whether global or targeted at specific universes, holiday rentals for example.
And in 2023, we will also rely on the new "Data demos" offered by Médiamétrie to analyse our audience and get insights on the affinity profiles that we will then be able to identify.
Laure Osmanian Molinero