Improving our understanding of online video consumption
Improving our understanding of online video consumption
Audience le mag
Published on 14.11.2019

The strong growth in video usage that began several years ago is continuing today, and this format has become crucial for web publishers. Young people are its biggest fans. To support this growth, Médiamétrie has devised an innovative video audience measurement covering all screen types. In this article, we will examine this consumption and these trends in more detail.
Video, a format of its time
Today, it is increasingly common to find digital devices in French homes: on average, each household owns between 6 and 7 screens. The highest adoption rate for any device has been for smartphones: 8 out of 10 households are equipped, and more and more homes own all of the following: TV, mobile, PC and tablet. Each day, 44.8 million people (1), i.e. 7 out of 10, go online on their smartphone, tablet or computer.
Video has come to be an essential part of the internet and it features prominently in the browsing habits of web users: each day, 23.7 million people visit TV, video and SVoD websites and apps, an increase of 2.5 million users compared to a year ago. Younger viewers are totally captivated by these formats: every day, 70% of 15 to 24-year olds visit video pure players and the websites of TV channels to watch series, live sports, cartoons, catch-up shows, etc.
In addition to video-specific platforms, internet users are also visiting a multitude of websites where an increasing catalogue of videos are hosted online: 54% check social media daily, 28% keep up to date via news websites and 4% entertain themselves thanks to live video game broadcasting sites and apps. These categories have experienced strong growth since last year.
According to Bertrand Krug, Director of Médiamétrie's Internet Department: "Video creates engagement and it does so across all target groups. Today, we are seeing diverse content types and durations, as well as a diversity of broadcasters. Video is no longer confined to specialist players. The development of vertical format has led to the emergence of new video communications. All of this means that video has become a priority format for many publishers who now need to develop the audiences that it generates and benefit from a benchmark measurement."
A specific measurement for online video
In order to quantify the consumption of digital video content, in 2017, Médiamétrie launched its Internet Video Audience measurement across three screens: computer, mobile phone and tablet. Since January 2019, it is the only video measurement and it offers an enhanced nomenclature. Bertrand Krug gave this analysis: "Content producers are utilising an increasing number of contact points to reach out to all of their target groups. They need indicators to understand the behaviour of their audiences, to monetise their content, and in some cases, to add value to their editorial content. The challenge lies in measuring the content across all of the platforms, channels, and distribution networks."
First and foremost, this initiative is a response to the need for audience measurement: the solution measures the number of unique video users who watch a video player on each screen and as a whole, by means of the indicators shared by the market (daily and monthly audience, time spent). The results also provide information about the profile of unique visitors through more than 50 different demographics. Each publisher can discover the contribution gains from mobile screens, as well as which populations the different screens have in common. In order to qualify the engagement of online video users, the measurement analyses their daily connection time and the time spent on videos according to the audiences. Finally, as the standard measurement shared by market stakeholders who subscribe to it, Internet Video Audience offers a benchmark that allows everyone to rank the power of their group in the marketplace.
According to Charles Jouvin, Deputy Managing Director of Marketing, Research & Communication at Prisma Media Solutions: "The video format has become a natural passport to accessing our brands. That's why we will continue to work with Médiamétrie and the entire professional industry to build the standards and indicators that serve to guarantee the relevance of measuring all interactions with our audiences, whether those interactions are editorial or advertising-related."
Internet Video Audience measures those websites and apps that have subscribed to the measurement and tagged their player, or in certain specific cases, provided their site-centric data. To date, the measurement includes 9 media groups: TF1, France Télévisions, M6, NRJ Global, Altice, Arte, Figaro CCM Benchmark, Prisma, and Google. In July 2019, YouTube became the first digital video platform to join Internet Video Audience. It is also one of the most significant, since 8 out of 10 French people (80.2%) aged 15 years and older visit the platform each month. In the near future, more publishers and platforms are also due to be added to the measurement.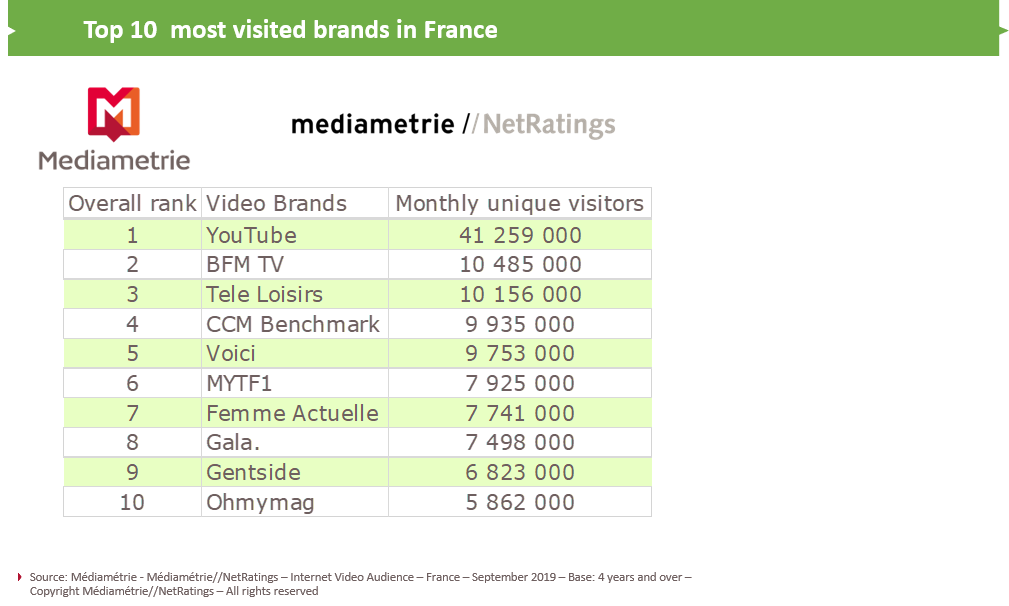 Internet users watch a total of 10 billion videos each month on the websites included in the measurement (2), and 4 out of 5 users view content on their mobile screen. The time spent watching videos varies depending on the sites and apps: from around 5 minutes on platforms broadcasting short videos to as long as 15 or 20 minutes on TV catch-up platforms. Almost one in two videos (46%) is watched by internet users aged between 15 and 24 years old.
Innovative methodology
As is also the case for the Total Internet Audience measurement, Internet Video Audience is a hybrid measurement. This robust measure marries two complementary sources: panel data and site-centric data, and complies with the GDPR rules. The panel used is the Google and Médiamétrie Multiscreen Panel, which is made up of 3,353 households and measures the audiences for all screens – TV, computer, tablet, and smartphone – within the same household. The site-centric data is collected via a tag – the eStat Streaming tag – which the publisher inserts into their video players. Thanks to these tags, the measurement is both exhaustive and very refined, allowing you to count the number of page views and the time spent to the nearest second. It also takes account of the video user's viewing behaviour (pausing, rewinding, etc.)
Bertrand Krug underscored: "In the video domain, measuring time spent lets you grasp the strong engagement web users have with the content."
The measure is returned across a comprehensive scope: 4G/5G browsing regardless of operator or connection location, using Wi-Fi, mobile websites, apps, live broadcast and catch-up, as well as HTTP and HTTPS protocols.
As is the case for all of Médiamétrie's benchmark measures, this methodology will soon be the subject of an audit by the CESP (France's centre for advertising media research).
The vitality of the video sector is the source of a number of technological advances, in the light of which Médiamétrie is continuously adapting the measurement in order to provide the accuracy and relevance that the market expects.
Laure Osmanian Molinero
---
(1) Audience Internet global de Médiamétrie, 2 ans et plus – juin 2019
(2) Audience Internet Vidéo – juin 2019