Global internet audience measurements are a goldmine for digital advertising
Audience le mag
Audience panels, which are very rich in information on Internet users, are sources of data that Médiamétrie provides to the digital ecosystem, as a neutral and independent trusted third party
Published on 15.03.2023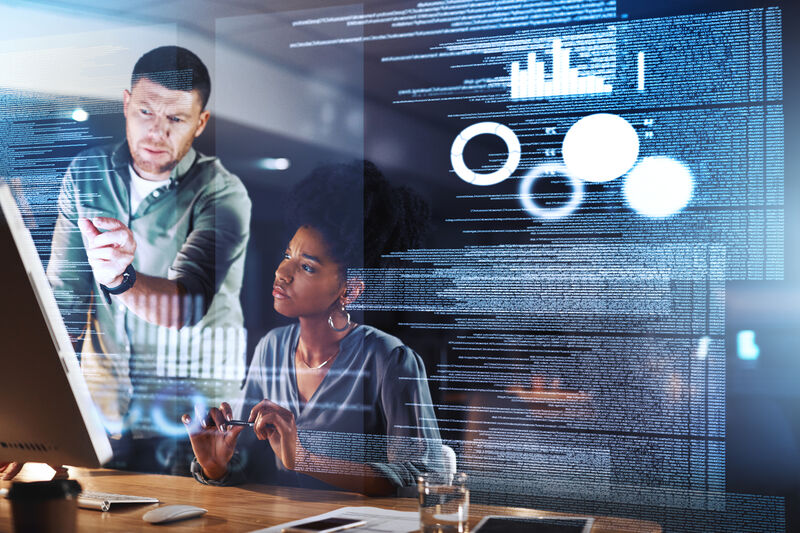 Estimated reading time: 3 min 21 s 
Digital advertising is complex as much in its implementation as in the analysis of its performance: the accuracy of its targeting is faced with the announced disappearance of third-party cookies, audience measurement for video formats is a subject of debate and measuring the effectiveness of campaigns requires sophisticated tools. Audience panels, which are very rich in information on Internet users, are sources of data that Médiamétrie provides to the digital ecosystem, as a neutral and independent trusted third party.
Audience data for targeted advertising
The scheduled end of third-party cookies is causing a profound change in the online advertising and targeting market. Without third-party cookies, publishers have much less data, both behavioural data and socio-demographic data, to offer advertising targeting to advertisers, specifically in cross-publisher media strategies. There are other options for improving advertising targeting, in particular thanks to Médiamétrie's Internet audience measurements.
Médiamétrie's Global Internet panel makes it possible to produce very detailed, cross-device audience data, i.e. regardless of the device used - computer, mobile, tablet. The panel data thus provides precise information on all of the browsing paths of Internet users on 6,000 websites and applications. It makes it possible to create behavioural demographics and identify affinities with the media. Audience measurement is individual and automatic: it is based on 25,000 panellists. For several years now, Médiamétrie has been making progress in connecting this data to the programmatic ecosystem.
Thus, for the past year, Médiamétrie has been marketing the data from its panel to improve contextual and semantic targeting models for data. Implcit, a French adtech company, has developed a technological solution for contextual targeting based on individual and anonymised audience data from Médiamétrie//NetRatings' Global Internet measurement panel. Using audience data from the internet panel, Implcit first converts web page audiences into advertising exposure data. Implcit has developed statistical methods that make it possible to create all advertising demos and analyse their behaviours and areas of interest accurately and with great precision. Advertisers or their media agencies can thus buy the URLs where the demo created is the most present directly via programmatic tools.
Médiamétrie and Implcit have been recognised for this innovative solution with the "Highly Commended" award in the "Research Innovation" category at the 2022 IAB Europe Research Awards.
Laurent Nicolas, CEO of Implcit said: "This cooperation is in line with the development of the advertising market. With the prospect of third-party cookies disappearing in 2023, panels are once again becoming an essential source of data in the advertising market. The cross-device, quality data provided by Médiamétrie//NetRatings' Internet panel are more powerful in terms of demo creation and reach more Internet users than data targeting."
Another company, Qwarry, uses data from the Médiamétrie//NetRatings Internet panel to carry out semantic targeting by scanning URLs; panel data is thus linked to semantic segments. Qwarry is able to process data and connect it to the programmatic ecosystem to enrich its offers.
In the words of Bertrand Krug, Médiamétrie's Digital & Press Director: "These partnerships are an extension of media planning solutions that have already been in existence for 10 years. Médiamétrie's data is well-qualified, transparent and audited. The panels play a key role in the digital advertising ecosystem. Panels make it possible to bridge the gap between audience measurements and advertising purchases, while respecting privacy. A world without cookies doesn't mean a world without data".
Médiamétrie also works with other players to connect audience data to the digital advertising ecosystem and offer a common good serving the market.
Médiamétrie is also involved in measuring advertising effectiveness by offering a digital post-test offer.
Furthermore, Médiamétrie has joined forces with Integral Ad Science (IAS) to analyse the contact intensity impact of "VOL" formats (Online Videos) on advertising effectiveness. Médiamétrie and IAS have combined their respective areas of expertise to establish an innovative post-test system for VOL campaigns. The study highlights the contribution of the visibility and exposure time of the Video format on the various performance indicators of a brand such as image, purchase intention or campaign approval. It has been clearly established that intense contact, combining high visibility rates and duration, maximises the positive perception and incentive aspect of the campaign, generating up to +15% of very positive image among the individuals exposed.
Bertrand Krug gave this analysis: "This approach demonstrates that visibility and length of exposure time are still essential levers in establishing digital strategies. Therefore, in an advertising market which is becoming more complex with the automation of processes, the diversification of formats and the multiplication of inventories, it is becoming essential for advertisers to ensure the effectiveness of their communications, in particular through quantified measures."
Laure Osmanian Molinero