Brands: customer experience innovation
Brands: customer experience innovation
Audience le mag
Published on 15.01.2020

Against a backdrop of extreme competition and intense solicitation of consumers, brands are using new and innovative strategies to interact with consumers and to stand out in the customer experience. What are the keys to the success of these communications inspired by the digital universe? This topic was addressed by Jamila Yahia-Messaoud, Director of Médiamétrie's Consumer Insight Department during the Stratégies Summit which took place in September 2019, themed around: "New brand communication methods = new experiences for customers?" The specific link between smartphones and making a purchase has also been researched in greater depth in a study conducted for Mobile Marketing Association France.
An informed and active consumer
Today, internet users have access to multiple channels where they can find out information about brands: brand websites (49%) and reseller websites (52%) are the primary sources; family and close friends (36%) also play a significant role, as do the sales points themselves (37%), and consumer websites (1 person in 4). 9% of consumers find out information via the brands' pages on social media. Given that 51 million web users browse for over 2 hours a day, the digital sphere is a massive pool of advice and information, and it offers interactivity which then makes the relationship between the brand and the consumers more multilateral than ever.
According to Jamila Yahia-Messaoud, Director of Médiamétrie's Consumer Insights Department: "the perfectly informed consumer has a new stance, or even a new power". Never more so than since the recent arrival of so-called citizen empowerment apps such as Yuka and QuelCosmetic that number 9.5 million internet users, i.e. nearly twice the number of a year ago. 15 to 34-year olds are the biggest converts to these apps: they make up nearly a third of their audience whereas this age group makes up less than one quarter of the French population.
Peer advice plays an important role in purchasing: a positive opinion is decisive for 2 out of 3 consumers, for almost 3 out of 4 consumers aged 35-49 years old, and for nearly 70% in the upper SPG category. Conversely, 3 out of 4 consumers will refuse to make a purchase if they have read a negative opinion; this is especially true for 35-49 year olds (85%) and the upper SPG category (84%).
Deeper interaction
Jamila Yahia Messaoud continued: "The consumer is now an active player in its relationship with brands, and that requires the brands to constantly adapt."
To stand out amongst the abundance of communication, brands have already invested in ways to interact that reflect consumer expectations: a facilitated and personalised relationship that is adapted to their constraints and preferences. They are also committed to increasing the number of contact opportunities. To that end, the expansion of chatbots now offers quick online access to basic information: almost half of consumers know about chatbots (60% of the upper SPG category and 68% of those aged 15-34 years old). More than a third of consumers have also used the chatbot's telephone version - the callbot - in particular those in the upper SPG category (41%) and those aged 15-34 years old (42%). The popularity of both of these solutions is down to their ease of use and the speed with which they provide answers to an information request. Nevertheless, for complex interactions, 6 out of 10 consumers thought that a human being was better for personalising the relationship.
There also needs to be a renewal in the interaction between brands and their customers. Second generation video is one innovative channel: these are interactive or live videos, videos of stories on social platforms, and videos of branded games, etc. The latter are the farthest advanced: more than 40% of internet users have already been exposed to branded promotional games. And more than one in five web users watches brand-related live videos or stories on social media.
Certain brands – especially in the hygiene and beauty, automobile and clothing sectors – are enjoying real success at the cutting edge of this new content. Consumers exposed to this content are mostly of the opinion that it reinforces proximity with the brands: this is particularly the case for women, 86% of whom think so and for millennials (85%). More than two-thirds of consumers who have seen this content thought it was better than so-called "traditional" brand communications: 77% of the upper SPG and almost 73% among millennials. According to 81% of these consumers, these new generation communications encourage them to buy more, a finding that was even more pronounced among women and millennials (85%).
Hyper-personalisation of communications
Consumer interest in these new forms of brand interaction is based on three aspects: formats, the tones adopted and the content. According to Jamila Yahia Messaoud: "Naturally, the variables of one equation change from one consumer to the next and from one sector to the next."
The exchange between brands and consumers must always offer consumers the opportunity to express themselves and to interact with the brand whilst strengthening the link with it. The different elements of communication are thus adapted to each consumer in a hyper-personalised interaction that meets their specific expectations and needs.
First and foremost, communications are adapted according to the socio-demographic audience. For instance, millennials especially love the new communication modes and are particularly keen followers of live videos, interactive computer graphics and other games and quizzes offered by brands. They value these and 80% of them consider that these formats generate more attachment to the brand, a result which deserves to be underlined given the volatility of this population. Jamila Yahia Messaoud gave this analysis: "These same millennials are fully adopting this active consumer stance whether it is through their use of empowerment websites and apps or by expressing their views and opinions, as they take full advantage of digital which offers them a sounding board the like of which has never been seen before."
The three components of the interaction must also be adjusted according to the business sector. Whilst a fun tone is more appropriate for a communication about food products (games, quizzes, etc.), stories are best suited to articles on fashion and hygiene & beauty products; interactive videos are aimed at consumers of technical products and new technology.
Finally, consumers' interests also act as a guide for communications. Jamila Yahia Messaoud specified: "Two individuals in the same socio-demographic category and who are interested in the same product expect a personalised communication that will be much more relevant if it takes account of their completely different interests." Accordingly, the contribution of data collected about consumers is crucial to helping brands to strengthen their customer knowledge and to offer this personalised interaction.
Today more than ever, brands must give consumers the choice of interacting with them; this will lead to consumers who are even more engaged, which indicates a successful experience.
Smartphones, a key tool in the customer relationship
In this respect, smartphones which users always keep close at hand have become essential in the relationship brands have with their customers. On behalf of Mobile Marketing Association France, Médiamétrie conducted a comprehensive study entitled: "The impact of mobile devices on purchasing by French people in shops." Smartphones are playing an increasing role in purchase preparations and also in brand communications. Almost 9 out of 10 smartphone users look up information online prior to visiting a point of sale and two thirds of them use their smartphone to do this. 2 out of 3 of them also perform a brand-related search on their smartphone.
According to Laurent Landel, Head of the Drive-to-store working group at MMA France "In the history of the media, we have never seen such a fast take-up rate as we did for smartphones, which in 10 years have established themselves as the leading device. With us when we fall asleep, when we wake up (or even used for that purpose), the intimacy and intensity of the relationship with our smartphones make them a wonderful opportunity for brands ... which must grasp the rules of communication that are specific to the smartphone!"
Smartphone users are looking for opportunities offered by brands aided by their geographical location or the use of their personal data. This is why 45% of them share their location with brands, primarily to get good deals and also to discover new points of sale. Almost two-thirds of them (65%) share their personal data with brands, mainly if they are already a customer.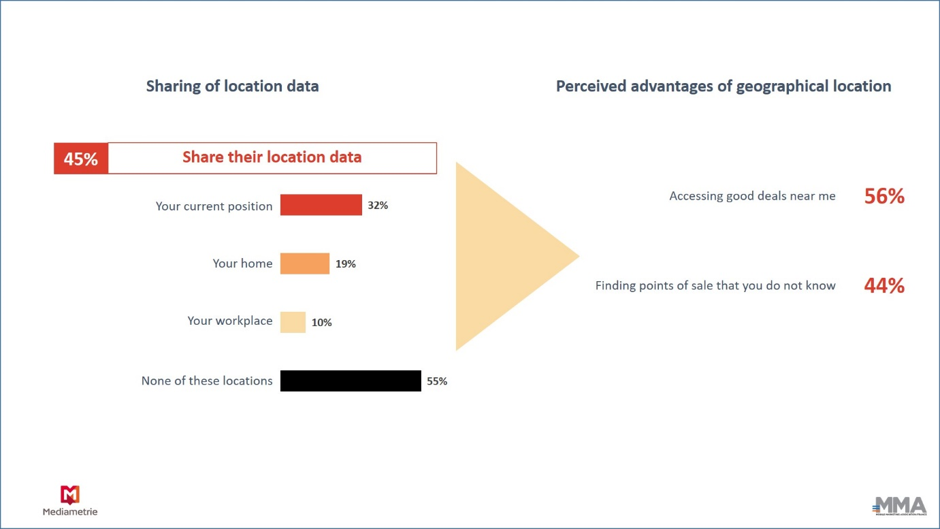 As far as brand communications to smartphone users are concerned, they are an effective way of generating footfall to point of sale in the case of 6 users out of 10. This is particularly true for directed communications i.e. those that are sent directly to a person whose details (e-mail address, telephone number, etc.) are known to the brand.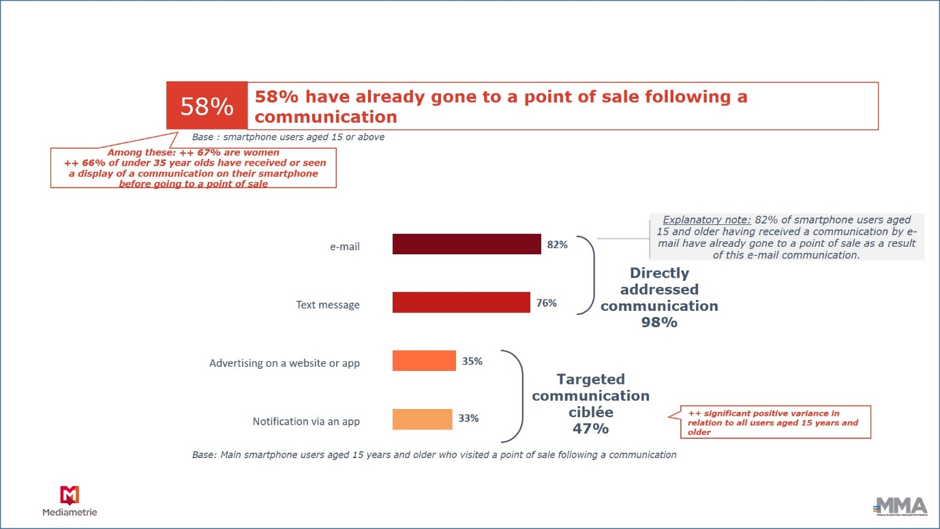 Most smartphone users aged 15 years or older (91%) have already received or seen a display of a brand communication on their smartphone: in the main, these are directly addressed communications (89%) and/or targeted communications (73%), i.e. a communication that is sent to individuals with similar profiles.
Laurent Landel gave this analysis: "The size of the screen, the fact that we always have our phones with us, and that mobile "time" is short are all rewriting the communications rulebook with regard to this device... but more than anything, it seems to us that personalisation represents the most significant revolution on smartphones... the information that users entrust to their phones make these a gold mine for brands which will learn to enhance the customisation of their messages..."
Phone promotional offers are the most successful at encouraging the user to visit the point of sale, followed by information on the availability of products in store, and then geographical location data (offers, good deals, points of sale). 2 out of 3 smartphone users who received a location-specific communication went on to visit a nearby point of sale.
Jamila Yahia Messaoud concluded: "This study reveals that at the same time as innovative communications are building and reinforcing the link between brands and their users, more traditional marketing methods that are relying on the power of the smartphone and the potential opportunities opened up by geographical location and data usage are also proving to be effective with consumers".
Laure Osmanian Molinero