All tuned in to the radio
All tuned in to the radio
Audience le mag
2017-2018, a year in Radio
Published on 11.10.2018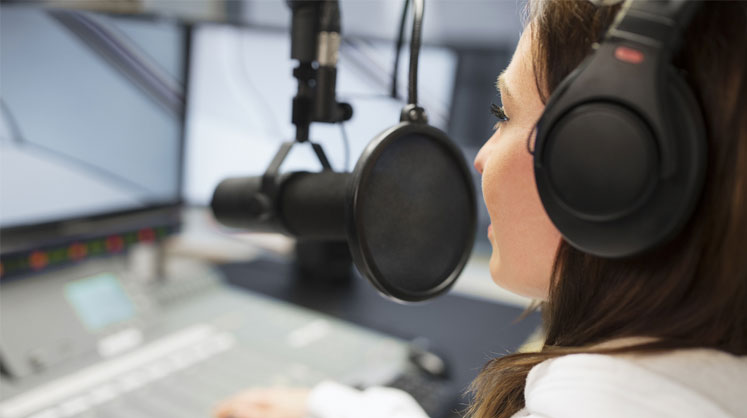 Forty-three million people in France listen to the radio every day. Listeners from all generations trust it for both news and music. Renowned for its warm character, it represents a daily reference that is popular with working people.
Music and news: Radio sets the tone
Nearly 43 million people in France listen to the radio for almost 3 hours each day (2h51), that is 8 out of 10 French people. Over a three-week period, 9 out of 10 people (i.e. 49 million people) tune in to a radio station. In the words of Emmanuelle Le Goff, Director of Médiamétrie's Radio Department: "With such an impact, this medium is an essential link in terms of information and music in particular."
Music is the main attraction according to 57.4% of listeners. 3 out of 4 French people feel that radio allows them to listen to different types of music. Each day, 38.5% of French people choose music stations – a gateway to discovering new artists and songs.
For half of the population (52.1%), news is the second motivator to listen to the radio; a third of the population (33.6%) uses it to follow practical information such as weather, traffic updates, etc. These different interests come together to cement a fact: 37.3% of French people listen to general interest radio stations, while 19.2% listen to local radio stations. The latter are the main information providers for local news and usually have good audience levels in their broadcasting area. This was discovered after evaluating 16 French departments in which local radio stations are in the top three most listened to stations, with four departments where they dominate all other stations.
Morning represents the peak listening time in radio. A key moment for news, morning shows in general interest radio stations must include the mandatory political update. After all, didn't Nicolas Hulot, the former Minister for the Ecological and Inclusive Transition, announce his resignation on live radio? 75% of morning listeners enjoy, above all, journals and press reviews.
Taking all stations together, 14 million listeners are tuned in to the radio at 8 am. This is the leading morning media-type, which allows listeners to multi-task and is easy to integrate into a daily routine. Digital devices add to listening time, with a second peak right before noon. Breakfast shows are not the only shows listeners tune in for. 3/4 of listeners have multiple listening times. Emmanuelle Le Goff says: "These different listening times correspond to different motivations during the day. Radio can cater to these thanks to the diversity and plurality of its offer."
Most listeners are loyal to one type of radio: during the day, 61% listen to only one type of station whether it be general interest, music or local stations. However, 39% listen to at least two different types of stations each day.
Trust and fondness cement loyalty to this media
People are attracted to radio because of its specific characteristics: 70% of listeners believe they can trust it. According to Emmanuelle Le Goff: "It is considered a reference. After all, directors of companies with 10+ employees can't be wrong: 98.5% of them are daily listeners – true radio lovers!" Overall, upper socio-professional categories are fans of radio. Coming in second, artisans and shopkeepers have a higher listening rate than average, reaching nearly 4 hours per day (3h51). In general, 9 out of 10 (87.7%) of upper socio-professional categories listen to the radio every day. 3/4 of them are very fond of radio and place their trust in it. A medium for working people, radio keeps them company during their daily commute, making cars the leading listening place!
Another point in its favour: 8 out of 10 listeners (77.3%) mention its warmth. "Radio is a medium brought to life by voices and personalities that listeners enjoy every day," continues Emmanuelle Le Goff.
These fundamental factors explain the listeners' fondness for this media-type and their average listening regularity of 12 out of 15 days.
This is how radio has become a trans-generational medium. Preferred by 35-39-year-olds with almost 85% of them listening every day, it also reaches young and senior audiences with 72% of 13-24-year-olds and 78% of people aged 60 and over. Everyone can find topics of interest, whether it is to stay informed about local or world news, listen to a variety of music, or just as a distraction. Offers are indeed rich and varied. We studied 900 radio stations in France and 7,000 frequencies from association stations, to local and national stations.
This phenomenon is growing thanks to the increasing number of people listening to radio on digital devices, with 12.2% of the population as a whole and over 20% of 13-19-year-olds listening daily. Much like mobile phones, the main multimedia listening device with 3.5 million daily listeners, these devices encourage individual use. They also offer more possibilities. For example, 1.7 million daily listeners listen on catch-up (streaming or podcast). The success of podcasts is still growing: each month, podcast listeners download an average of 16.9 shows and listen to 13.7, a high conversion rate of 81%.
Laure Osmanian Molinero
---
Sources : Médiamétrie - 126 000 Radio (Septembre 2017 – Juin 2018), Global Radio Volet 126 000 (Janvier-Mars 2018), Etude Cadres (Septembre 2017 – Juin 2018), Panel Radio (2017-2018), Cibles Premium Panel Radio (2017-2018), Etude Ad Hoc Ecoute des Podcasts (Avril 2018) et Etude Ad Hoc Matinales d'Info (Mai 2018).