Young people: audio fans
Audience le mag
Published on 26.06.2019

Millennials – young people aged between 13 and 34 – make up nearly a third (30.4%) of the population aged 13 years and older. Both traditional and new types of audio content feature prominently in their media and multimedia consumption. Having grown up in the digital age, they are strongly drawn to digital hobbies, which they primarily access on their smartphones. The phenomenon is even more pronounced among the youngest Millennials. This report uses Médiamétrie's studies to examine the issue in more detail.
A liking for audio
From time immemorial, all things audio have dominated youth media and multimedia consumption. Digital has been instrumental both to the boom in new listening methods and to the growth of new media which include podcasts, audio books, streaming, etc., and which have generated greater choice. First and foremost, audio consumption by Millennials involves the radio. Contrary to popular opinion, almost ¾ (73.8%) of 13-34 year olds listen to the radio every weekday (compared to 79.3% of the 13 years and older group as a whole) and they tune in for 2 hrs and 6 mins daily. Music is by far their primary motivation for listening: 2 out of 3 (63.3%) listen to the radio for music. For 3 out of 4 listeners aged 13-34, the radio is a friendly voice that also allows them to listen to the different types of music they love. Music channels accounts for over a half (56.9%) of youth listening time.
The youngest ages exhibit distinct digital practices: over a month, more than two fifths of 15-19 year olds (42.5%) listen to the radio via the internet, both for live broadcasts and catch-up. According to the Global Audio study, that figure exceeds the audience aged 15 years and older (40.3%). Above all, young people are taking advantage of technology: nearly a quarter (24%) of those aged 15-19 listen to catch-up radio content each month, compared to 1 in 5 (19.5%) of the 15 years and older category. Native podcasts represent a recent addition that are becoming increasingly popular: 12.4% of young people listen to these podcasts each month.
Besides the radio, young people have always been hooked on music: 61.4% of 15-24 year olds listen to music each month via music streaming platforms (for 15-19 year olds, it is 63.2%); whilst the figure for the 15 and over age group is 37.5%.
According to Emmanuelle Le Goff, Director of Médiamétrie's Radio Department: "Among the youngest listeners, there is a notable difference in their consumption compared to their elders in that they are much more likely to use catch-up or listen on demand services. As such, a transition in usages is in progress as we move towards different ways of listening to media."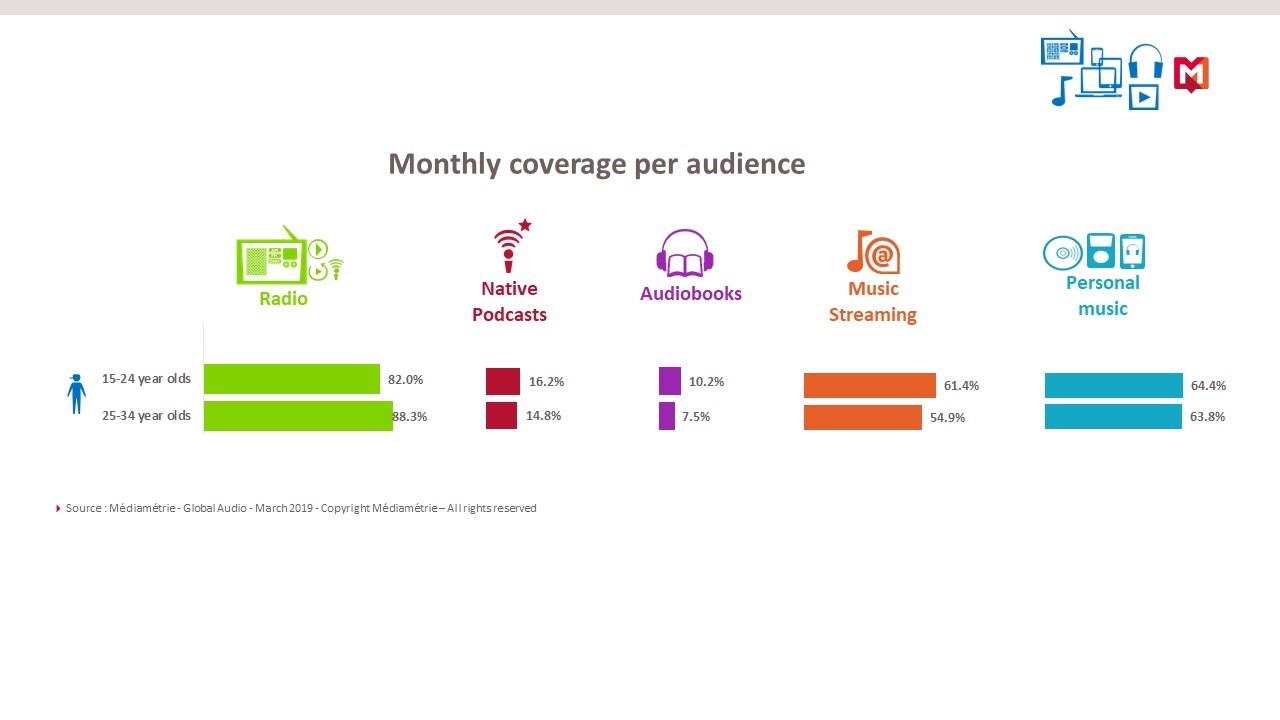 Digital hobbies prefered
Besides audio content, in general, Millennials are also fans of the internet and digital hobbies, such as: video games, video, music and mobile phone content; According to the Media in Life study which analyses media practices over the course of a day, these activities account for over 2/3 (68%) of their daily media contacts – much higher than is the case for the 13 years and over age category as a whole (43%). Once again, it is the youngest Millennials (ages 13 to 17) who are the keenest adopters, with a share that exceeds ¾ (77%).
These interests continue to flourish amongst Millennials, an ever-increasing number of whom use the internet and have digital hobbies: 86.9% in 2018 compared to 85.2% in 2016. These activities are also gaining in intensity, accounting for 25 contacts per day and per person in 2018, up by 2 contacts on 2016 (22.9).
The practice of these activities does not exclude radio and television which remain important to Millennials and are well established as normal everyday media.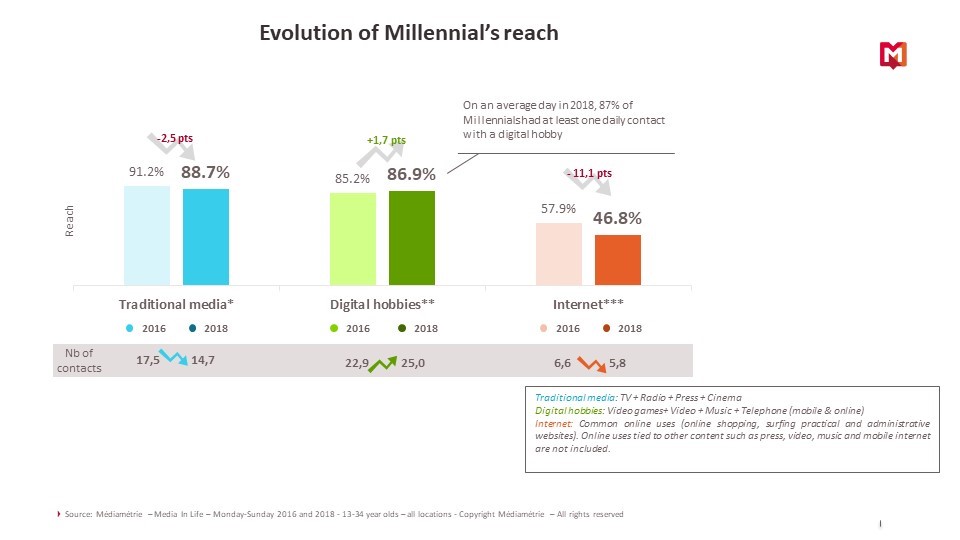 Mobile phones: the portal for all content types
Lastly, given the portable and accessible nature of mobile phones, these have become the preferred screens used by young people. According to the Media in Life study, nearly 3 out of 4 Millennials browse content on their phone during the day. They are the most active users and utilise their mobiles for almost half (48%) of their daily media contacts, compared to 29% for the population as a whole. This practice is even more common among those aged 13-17 years old who perform 61% of their daily media contacts on a mobile phone, regardless of the content they are browsing.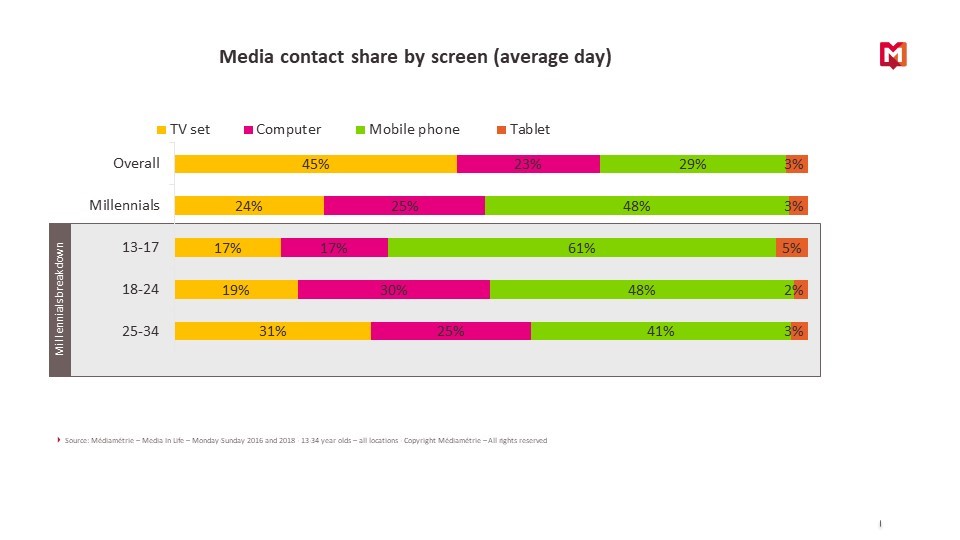 Laure Osmanian Molinero