Volunteering: feeling useful above all
Volunteering: feeling useful above all
Audience le mag
Who are the active volunteers within associations? What are their motivations and wishes? This is what Médiamétrie staff studied in a skills mentorship project – the first at Médiamétrie.
Published on 08.08.2018
Conducted in three volunteer associations, partners of the company, this barometer measured the satisfaction of members or volunteers, and opened avenues of consideration for these associations.
Generally speaking, the collective nature is the cornerstone of volunteer engagement. Volunteers within the associations present varied profiles, but they all unite around the desire to feel useful. Loyal to their associations and to the cause they support, they think about their activity over the long term. While happy with their commitment, they nevertheless aspire to more recognition, time and collective involvement.
Varied volunteer profiles
The three associations studied operate for the most part thanks to volunteer help. Volunteers' ages differ according to the association. Some have a younger profile, for example those who support environmental causes or those whose objective is to overcome food insecurity and waste. Others have older profiles, in particular those taking action against loneliness and isolation.
Differences in length of service with the association are also marked, according to its history. The oldest associations see the same volunteers involved for several years. This is less true for associations more recently created. However, on average across the 3 organisations studied, over half of the volunteers (56%) have been involved for over 2 years, and 1/3 of the volunteers for over 5 years. As a result, one can see a certain degree of loyalty in this involvement. Generally when one gets involved, it's long-term.
As for regularity of involvement with the association, several approaches become clear: this ranges from several times per week to a few times per year. Here also, age and volunteers' availability (whether part of the workforce or retired) can explain these differences.
Word of mouth as main vector of awareness of associations
When volunteers are asked how they became acquainted with the association, there are multiple sources and, once again, differ according to the organisation. On average, a little over 1 in 4 volunteers got to know the association through word of mouth (26%), a little less than 1 in 5 via the Internet (18%), and then advertising (13%) and association forums (11%) followed.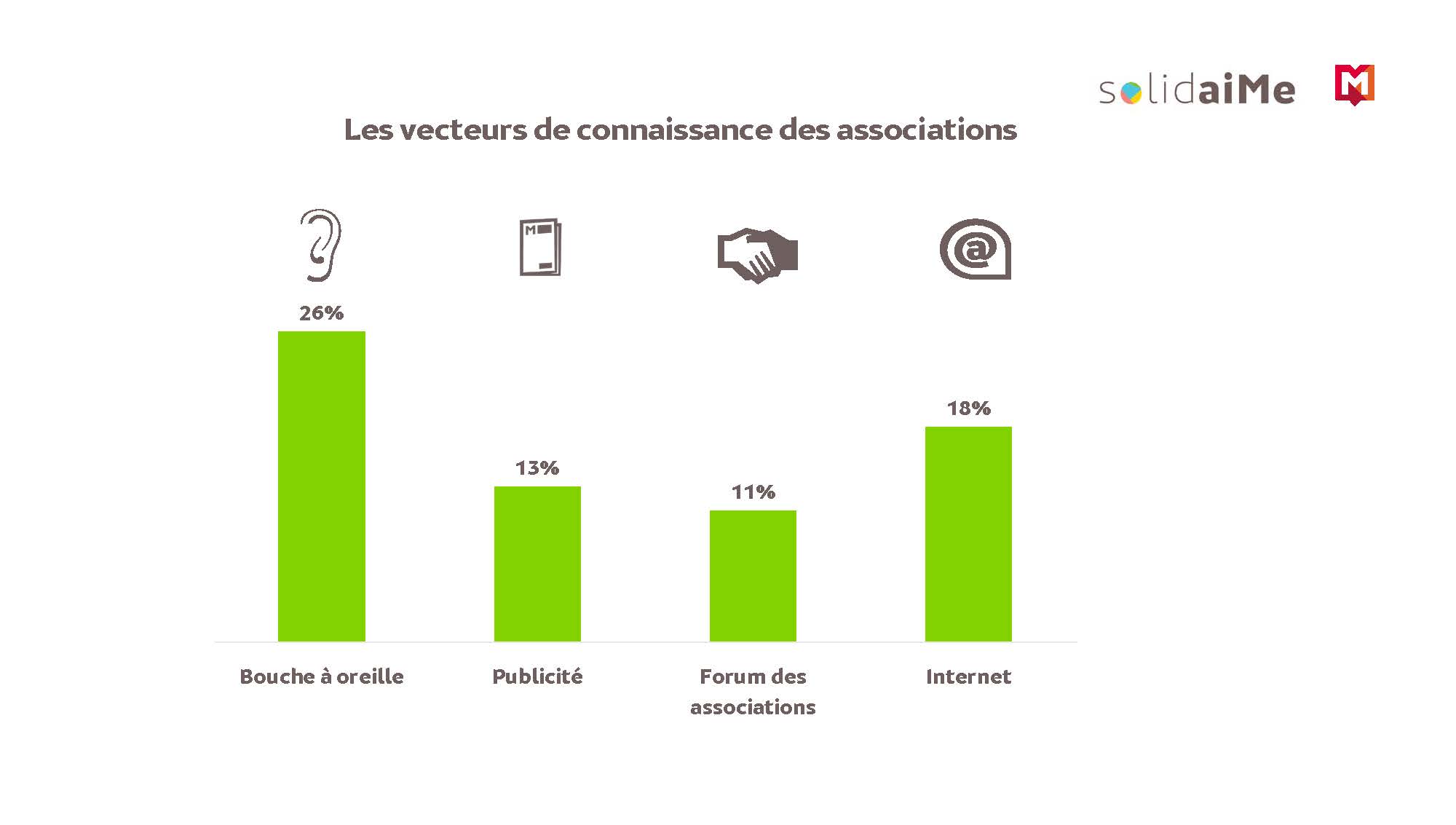 A commitment oriented towards others
The motivations of volunteers to get involved are shared across associations. The first, among all associations, is to feel useful: 70% of volunteers say this. The particular activity of various associations reveals other motivations more specific to each: the desire to change things or to help people in need.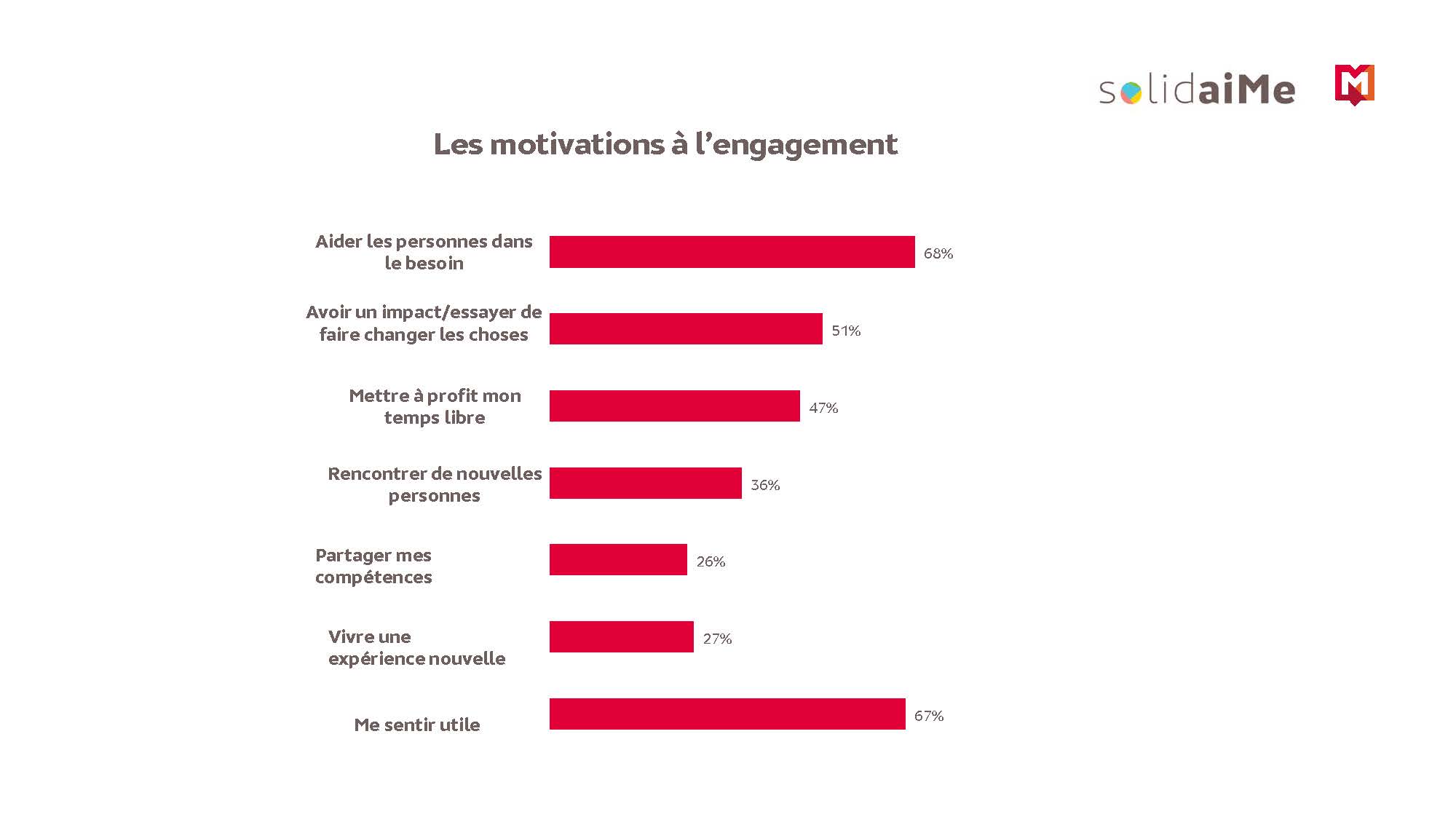 To the question on what this community involvement gives them, volunteers unanimously evoked the possibility of helping others (74%), and again feeling useful and being fulfilled (70%). Also provided by the involvement: for 44%, meeting new people; and for 26%, developing new skills.
The choice to get involved in a particular association is above all motivated by the cause supported.
A very high level of satisfaction and new aspirations
Over 2/3 of volunteers envisage continuing their involvement with the association (up to 88%), whether to accomplish things, feel useful or because the pace of volunteering suits them.
This enthusiasm is likely reinforced by their satisfaction: 93% of volunteers are satisfied with the association in which they're involved, including 62% who are very satisfied.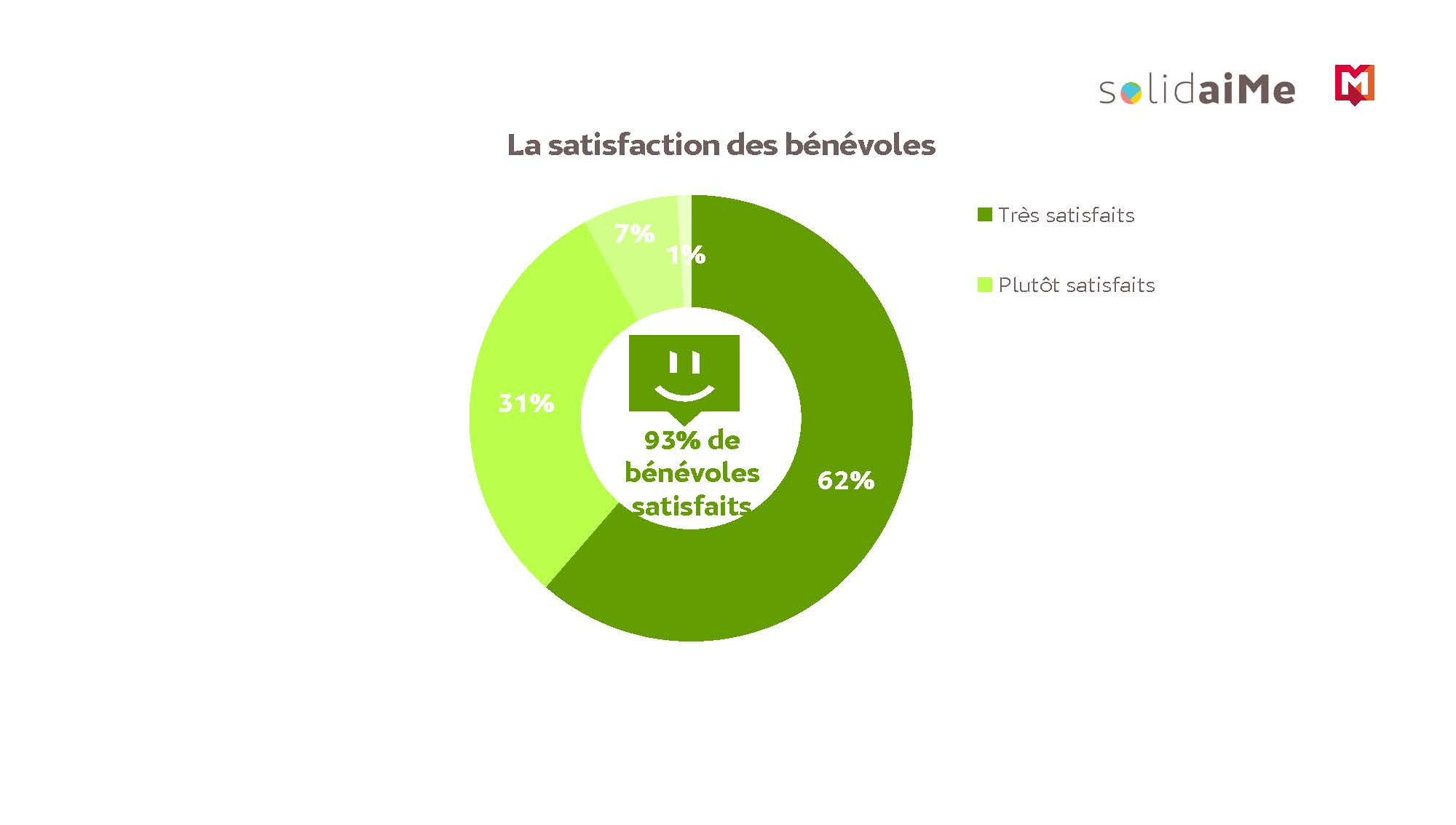 This doesn't prevent them from suggesting ideas to improve their organisation's work even more. To mobilise volunteers or attract new ones, 40% recommend organising more events. Two out of three strongly support PR and over one out of two (53%) suggest developing partnerships.
When they are asked what they are missing to be happy, volunteers aspire above all to have more time, more recognition and involvement from everyone. In the end, these aspirations are common to those in the working world.
Laure Osmanian Molinero 
In 2015, an internal survey conducted among Médiamétrie staff revealed that 63% wanted Médiamétrie to commit to support social or environmental activities. Stemming from this wish, a second survey was conducted in June 2016 to delve further, which led the company to develop a skills mentorship project. Its role was to offer the expertise of Médiamétrie staff in service to a cause. A volunteering barometer was then conducted among 167 volunteer members of 3 associations: The Little Brothers of the Poor, Le Chaînon Manquant and PikPik Environnement. The survey took place from 26 October through 13 November 2017. The SolidaiMe team – a cross-functional team from every department in the company – was created within Médiamétrie. Its role? Lead this barometer from start to finish, up to support when analysing results with associations.
Three questions for Nanou Marie, President of the Ile-de-France Suburbs Regional Council for the Little Brothers of the Poor
Did the results of this barometer give you avenues for consideration?
The Barometer conducted by Médiamétrie helped quantify certain ideas we felt through our knowledge of the association. First of all, a significant satisfaction level among the volunteers interviewed (those, whether elected or not, having accepted to take on responsibilities): 92% are satisfied, whether with training, information, the welcome for new volunteers or relationships with employees or between volunteers. Nine in ten want to continue their involvement, and one in four are ready to get more involved.
Beyond these very positive and encouraging findings, the barometer helped us identify avenues for work or points to monitor. Volunteers with responsibilities have a different profile from the rest of our volunteers: they are older, more diligent, busier than the others, and through the barometer they expressed a concern over administrative responsibilities falling to them. We must consequently be careful not to let those grow. In an identical vein, elected volunteers also indicated their wish to have more people to share the responsibilities they took on. There as well we must watch out for the fatigue of some teams.
What is the main challenge you encounter in your volunteers with responsibilities?
We encounter two main ones. First, these volunteers sometimes have problems managing their involvement, and more specifically their assumption of duties, or on the opposite side, their departure. When can they say no? Our first challenge will be to offer to support them in managing this involvement. Secondly, the barometer revealed that volunteers expected more recognition. It's our job to identify from whom this recognition should come – from volunteer peers, employees or even those being supported? …. The meetings we organise three times per year, with team representatives and employees from our region, already contribute to this. It's up to us to think of other ways to provide recognition to all those who support the elderly in the  Ile-de-France suburbs.
And for you, what are you missing in order to be a happy volunteer?
I am a happy volunteer: I feel active, useful and I like what I do. However, one thing would make me happier: a more functional filing system for all the documents I get!