Using data science to optimise ad targeting
Using data science to optimise ad targeting
Audience le mag
Published on 12.02.2020

With the increased viewing of catch-up TV, the continuous rise in internet usage and the predominance of mobile phones, TV and internet publishers now have significant volumes of data about how their users view their content, but they do not know their sociodemographic profiles. To use it to its best advantage, Médiamétrie has developed an innovative data qualification model, which is based on artificial intelligence.
Optimising advertising campaign targeting
Each day, 7.8 million French people watch catch-up TV, which represents a 13% increase within two years. They each watch for 1h11. In 2019, catch-up programmes attracted over one million viewers. Also, over 45 million people browsed the web every day, 37 million of whom used their smartphone for this. People using these devices also spent over half of the two hours per day browsing the internet.
Together with the growth of these practices, TV and internet publishers orchestrate advertising campaigns on catch-up platforms and web and mobile sites which are aimed at highly specific audiences related to the product and the requirements of advertisers. Estelle Duval, Director of the Data Department at Médiamétrie, noted: "In order to improve their performance in targeting their advertising campaigns, publishers need sociodemographic data associated with the usage of their users."
Internet publishers collect very large volumes of data on the usage and behaviours of online users visiting their websites by using cookies, which they add at each visit. However, unless their users are required to identify themselves to access the content, publishers do not know who they are. Regarding television, if an individual watches a catch-up programme online, the publisher can recognise his/her sociodemographic profile by means of information linked to his/her account. This is not the case if an individual watches on a television set or via a television set-top box, where accessing content does not require the creation of an account. This is true for two out of three cases. Moreover, watching catch-up programmes on a television set is something that brings together the members of a household, with a joint audience of over 40%. It is therefore useful to know the profiles of the members of the household who watch catch-up programmes.
A predictive model based on artificial intelligence and machine learning
In order to meet the needs of publishers and advertisers, Médiamétrie has developed the first predictive model based on artificial intelligence via machine learning. This innovative methodology which can be used to optimise advertising targeting – Data Profiling – allows TV and internet publishers to associate a sociodemographic profile with their usage data: the make-up of the household using the TV publisher's catch-up services using a box for the TV, and the age and gender of a cookie for the internet. All of this complying with the General Data Protection Regulation.
Estelle Duval explained: "Data profiling is both an innovation and an excellent demonstration – thanks to data science – of the combined use of the data of the publisher, who does not always have available the identification of its users, with the data from Médiamétrie's audience panels, the sociodemographic profile of which is shared with it in the greatest of detail."
When using Data Profiling, Médiamétrie devises a specific methodology for each client. This takes place in several stages staggered over a period of approximately three months. Once it has collected and analysed the data for the consumption of their content supplied by its clients, this exclusive, automated system that was created by Médiamétrie based on artificial intelligence selects the most pertinent algorithm(s). To do this, it uses the data from its TV and internet panels, which have accurate profile data. Using the professional expertise of Médiamétrie's Data Science teams, thousands of parameters explaining the different profiles are built up. These involve identifying the sociodemographic profiles associated with internet or catch-up TV consumption behaviours and habits. These parameters include, for instance, the websites visited or the types of programmes watched, the time of the visit, the day and the week, as well as many more. This is known as feature engineering. Once these parameters have been converted into mathematical data using a deep learning method, they are incorporated into the defined model. Thanks to artificial intelligence (machine learning), this model teaches itself to recognise the profiles associated with the various usages. Once testing and any adjustments have been carried out, the model is applied to billions of data items provided by the TV or internet publisher. In this way, the model qualifies the identifiers of the TV publisher or the cookies for the internet with a sociodemographic profile.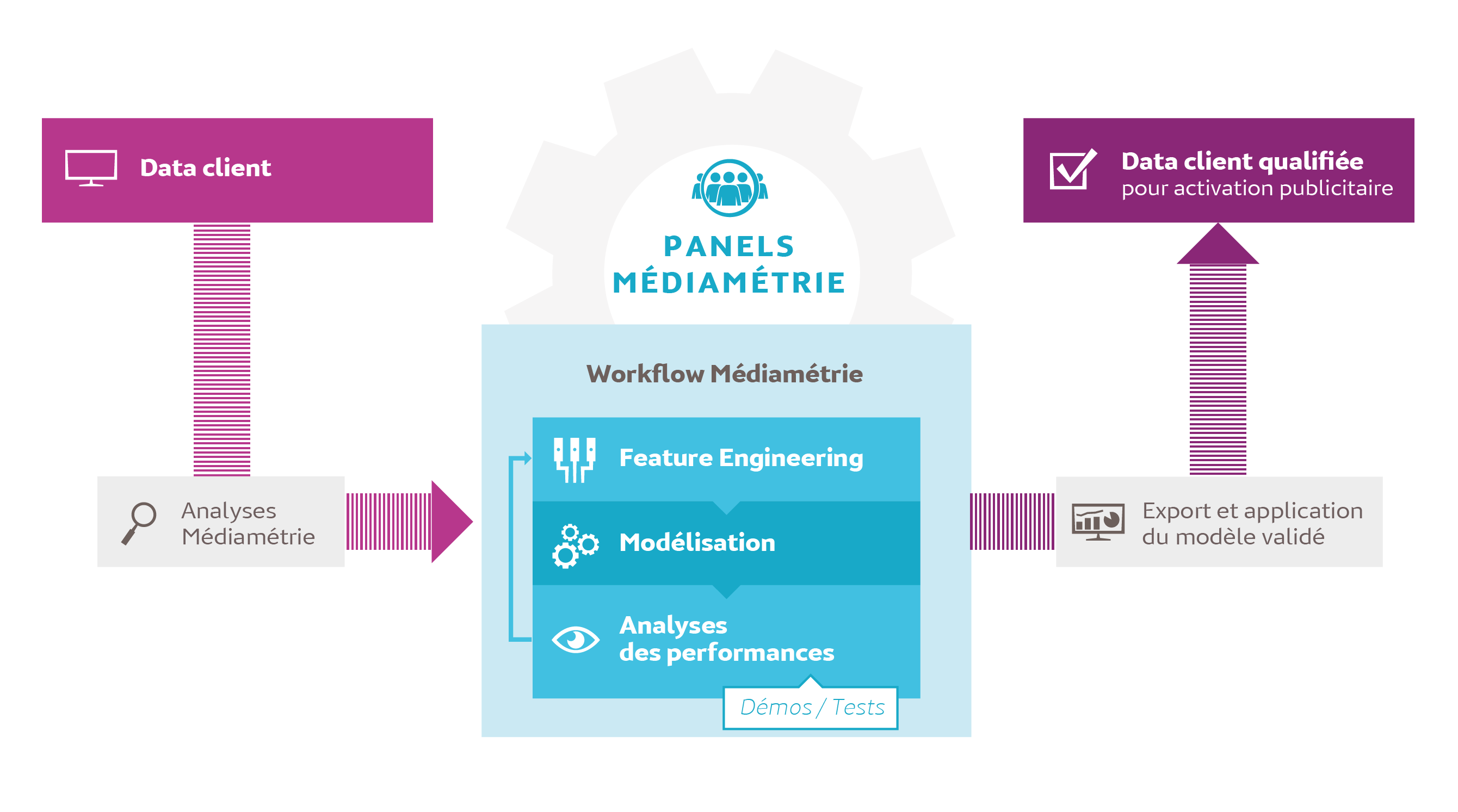 For Estelle Duval: "Data profiling is based on a set of methods that make it possible to adapt to the various requirements and the individual data of our clients. Each one requires an in-depth study and a specific solution to be handled. This calls upon both the most advanced artificial intelligence technologies and the media professional expertise of Médiamétrie".
Improved advertising targeting performance
To ensure the performance of the advertising campaigns conducted using Data Profiling, Médiamétrie then carried out a campaign assessment using its Digital Ad Ratings tools for the internet and Médiamat for TV. The assessments carried out confirmed that Data Profiling significantly optimises the results.
Launched in 2019, Data Profiling is now used by TF1 for its IPTV advertising campaigns on MYTF1 and by Webedia for all of its web and mobile internet sites.
Médiamétrie qualifies internet publishers' cookies on a daily basis. On the Webedia sites, a campaign targeting women between the ages of 25 and 49 that was conducted based on Data Profiling qualifications achieved a rate of 49% on-target impressions, which corresponds to an 18-point increase compared with the norms for the campaigns measured using Digital Ad Ratings. For men in this age group, the on-target impressions rate reached 66%, which is 30 points more than the DAR norms.
Similarly, for TF1, on-target achievement rates of between 60% (for women aged between 25 and 49) and 85% (individuals between 25 and 49) were seen in the assessments for the IPTV campaign. These levels are similar to the ones recorded via DAR for TF1's logged offering.
This means that the targeting is twice as effective as standard targeting that is available on the market.
For Antoine Meunier, Deputy General Manager in charge of Marketing, Research and Communication at Webedia: "We are proud to be able to complement our data value proposal: The daily qualification, by Médiamétrie, of our audience profiles across six strategic demographics for our clients is a genuine innovation that enables us to combine the quality of the targeting and the volume of the activable segments."
Philippe Boscher, Deputy Manager, digital marketing, One Data, studies, R&D of TF1 Publicité emphasised: "This initiative is an excellent demonstration of the use of data science in order to optimise the advertising experience on the TV set and opens up to us interesting perspectives for addressable television."
Laure Osmanian Molinero