Towards a common standard in media data in France
Audience le mag
Today, it is crucial for the media to know more and more about their audience
Published on 28.03.2018
The digital environment has made staggering amounts of data available to web publishers, as well as television and radio channels. How can this data be used? Analysed? And enriched? These reflections are central to media strategies aiming to optimise advertising revenues in the face of fiercer competition and the increasing importance of programmatic advertising (63% of the digital advertising market*). Since the end of 2016, Médiamétrie – as a trusted third party – has been developing new Data services in support of projects by publishers, advertising space brokers and operators, by creating the conditions for a common standard in media data in France.
Alongside the expansion of digital measurement, for several years now, Médiamétrie has already been processing Big Data. These volumes have kept on growing with changing practices and the increasing number of screens in use. Today, Médiamétrie processes more than a billion pieces of data daily. It cross-references this data with its audience measurement panel data to obtain results that are even richer and more precise. Known as measurement hybridisation, this expertise has been developed by Médiamétrie's pool of data scientists since 2010. Médiamétrie also built a Data Lake in 2016, giving its teams optimal access to all of the audience results stored there, for the purposes of analysis and R&D activities.
Driven by these tools and experiences, in 2016, Médiamétrie decided to start work on creating a common standard in media data in France. The aim was to facilitate its use, as well as to encourage the advertising market to value and trust data more. As a reference third party, Médiamétrie aims to meet the data expectations of the media, advertising space brokers, agencies and advertisers, in terms of quality, method consistency, neutrality and transparency.
Thus, in July 2017, Médiamétrie set up a Data Committee to work on this project. The committee brings together the media, pure players, agencies, advertisers and telecoms operators, i.e. some 21 members (see boxed text), including the major data stakeholders in France.
Data qualification and validation
The first stages in this approach involve developing tools to qualify the data collected by media publishers. Médiamétrie's Data Science team has designed a predictive model for socio-demographic data: it can qualify publishers' cookies using data from Médiamétrie's Internet Panel, based on statistical learning (machine learning). Therefore, publishers can learn the socio-demographic profile of the cookies from web browsing behaviour. Browser cookie data – 10 million bytes – is stored in Médiamétrie's Data Lake.
Another example of genuine innovation in video, and unique in France: the qualification of IPTV data for catch-up TV programme viewing obtained from operators' routers. For each identifier from a router, the model provides information about the audience profile for TV programmes viewed in catch-up on TV sets – gender, age and the presence of children in the household – backed by the Médiamat panel (television audience measurement in France).
Another possibility offered by these models is to enrich the media data results from Médiamétrie with external non-media data, for example, purchasing intentions.
Estelle Duval, Médiamétrie's Director of Data Business pointed out: "By identifying a socio-demographic profile, Médiamétrie can add greater precision to data from cookies and IPTV logs, enabling better targeting of digital advertising campaigns and securing additional impressions."
Médiamétrie has also developed a method of trusted third-party validation of the data included in the databases of publishers, operators and advertisers. This method consists of cross-referencing these databases with the data collected by Médiamétrie as part of its surveys: household composition, socio-demographic data. This data forms a new database which is then used to define a data quality index, both in general and by socio-demographic criteria.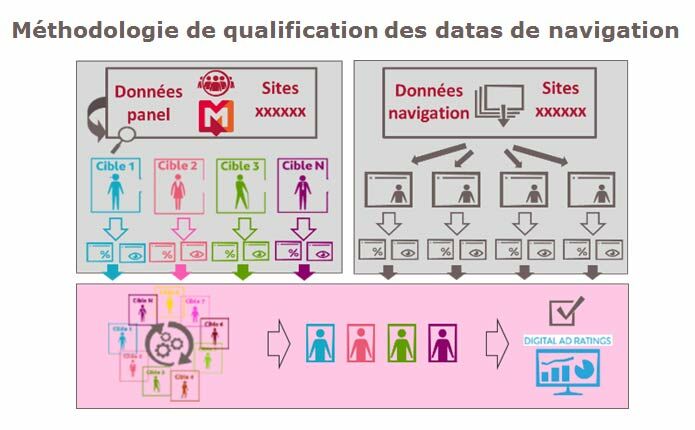 Bringing the market together
Following on from these steps towards data qualification, Médiamétrie is offering to bring together the data from a set of media publishers and operators in order to enhance planning tools and campaign assessments. Once grouped together, validated and homogenised, this data becomes extremely rich and complete, representing a real strength in the digital environment dominated by GAFA. This large volume of data will be hosted and organised in Médiamétrie's Data Lake.
One priority issue raised by this platform is the adoption by the market of a Unique Identifier, used with the data to calculate coverage and repetitions. Médiamétrie – through its IT teams – is conducting its own R&D on the subject.
"Just like our position in audience measurement, we hope that Médiamétrie can foster the emergence of a common reference for Media Data in France, a trusted third party that is neutral and independent. Our goal is to help publishers add value to their offering, by relying on our expertise and know-how in methodology and technology," concluded Benoît Cassaigne, Executive Director of Médiamétrie.
*PWC / SRI e-pub Observatory 2017
Laure Osmanian Molinero
---
Médiamétrie's Data Committee:
366, ACPM, Canal +, Dentsu Aegis Network, France Télévisions, GroupM, Groupe Figaro / CCM Benchmark, Groupe Les Echos, Havas Média, Lagardère Active Digital, La Poste, Leboncoin, Le Monde, M6, Omnicom Media Group, Orange, Prisma Média, Publicis Média, SFR, TF1, Union des Annonceurs.
---