Let's speak digital
Audience le mag
New consumers behaviours and business transformation
Published on 15.01.2018
In twenty years, lifestyles have changed completely, whether in terms of how people look for information, eat, read or have fun. Under the influence of digital technology, businesses and administrations are re-thinking their organisational structure and adapting to their clients' and employees' new practices. At the conference organised by the French Foundation for Management Education (FNEGE) held in November 2017 on the topic "Transformation of the ancient world or eruption of the new world?", Jamila Yahia Messaoud, Director of Médiamétrie's Consumer Insights Department, underscored how consumers' behaviour is prompting businesses to transform themselves, in order to face the challenges of the digital revolution.
From the first Internet connections to an all-digital world
Since the very first subscriptions were offered at the end of 1994, digital technology has rapidly taken hold. While 0.4% of homes were connected at the end of last century, France had 5.8 million web users at the end of 2000, and 26.2 million in 2005: in 10 years, the symbolic mark of 50% of web users was crossed, with the vast majority of connections being ADSL broadband, a very typical option in France. By way of comparison, it took 20 years for television sets to reach 50% of French homes.
In 2006, Twitter is created and Facebook is made publicly available: this is the Web 2.0, web users play an active role and reinforce their contribution to the Internet. The Internet is now an interactive medium where the individual creates his or her virtual identity. Blogs gradually give way to social networks, which promise to connect people in the virtual universe. This new Internet gives rise to a "digital Speakers' Corner", with a potentially global audience! A new digital era is taking shape!
In 2007, 8 out of 10 individuals use a mobile phone, and 20% of French people use this screen to connect to the Internet. It's the year of the first smartphone, and the arrival of a second screen on which to connect. Usage increases, connection time on computers exceeds 20 hours and 30 minutes per month, plus mobile connections. And just as nature doesn't like a vacuum, mobile Internet users connect all day long and everywhere, to communicate, search, stay informed, and so on.
In 2010, the tablet makes its debut and contributes towards this digital takeover.
In 2012: 44% of French people use a smartphone – that's twice as many in two years – and 14% have a touchscreen tablet. The number of computer Internet users has risen even further and verges on 40 million per month, almost all of them connecting via broadband (93%).
Today, digital technology has become widespread and is disseminated at a rapid rate, while screens are used for a range of different purposes: more than 38 million individuals connect daily, 28 million via their mobile phones, making this the number-one screen for digital content. They devote 2 hours and 45 minutes to this medium every day, using it to perform a variety of tasks or to express themselves and socialise: 35 million use social networks, which have become personalised virtual universes where each member can find his or her contacts, favourite brands, messaging systems, photos and videos. Video is definitely the preferred format, with over 35 million video users every month.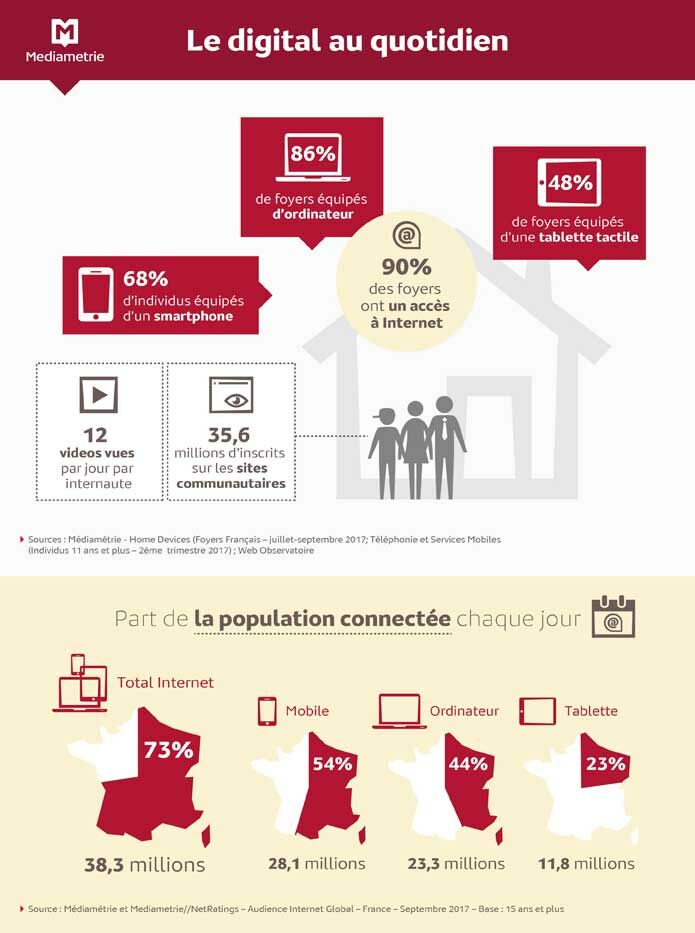 The reinvention of businesses
The digital revolution has transformed the way we are and the way we do things, and therefore forces organisations to transform themselves too. Businesses are reviewing how they relate to the individual, by reconsidering the balance of the relationship. It's about getting to know the person better, in order to draw them in more. Businesses are facing new challenges, linked among other things to their image, their reputation and possibly their sustainability.
Roles are shaken up and must be adapted, reinvented: communication, customer relationship, IT, Marketing, Business Development, these are all involved.
Digital technology is a means of expressing oneself, of making one's opinions and expectations known, it is the ultimate sounding board. Power relations shift and the consumer is set free. The business must integrate this new stance of the individual who receives AND interacts: it must provide them with discussion forums in which to express themselves, through dedicated websites or collaborative platforms, and make them feel heard. A constraint for the marketing department? More like an opportunity! According to the principles of VRM (Vendor Relationship Management) outlined by the Berkman Center Harvard (2006), customers must be offered the tools which make them simultaneously more independent and more engaged.
Mobile phones are used as the main connection screen, opening a vast number of possibilities for the user and for organisations. The business must seize these opportunities to make contact, which are on the rise and increasingly diverse, by offering its customers a value-added service and reinforcing a sometimes fragile link. Mobile phones present an opportunity to interact with customers in a different way, by sending them useful information in a new, short format at a relevant time and in a relevant place. This channel is both unavoidable and ideal. Commercial, communication and customer relation services must take advantage of it…but with moderation! It is particularly true for advertising that Internet users are more accepting when the adverts are not intrusive: 44% prefer advertising formats that don't interrupt the video they are watching.
Through digital technology, video has changed communication, consultation and information means. In September 2017, the French watched 2.6 billion videos on computers. Videos are popular because they are easier to consume and they get the message across quickly, something that is appreciated by the young people of today...and who will be the adults of tomorrow! Video represents another opportunity for the business to convey its messages in a different way by adopting tones that are welcomed and expected by its customers. It is a chance to stand out for being creative and having the capacity to innovate, by offering the customer new and memorable experiences.
Digital technology shakes the foundations of work: place, time and leadership change: the place of work becomes virtual, with no physical barriers, and the indistinct line between private and professional spaces means the concept of time units becomes blurred. The right to switch off is consequently enforced, and leadership is diluted as collaborative work takes off. Adapting to this new order becomes essential in order to ensure that the business is attractive and sustainable.
Social networks are no longer mere discussion platforms, they are interfaces which have a strong link with the public. The business must integrate this evolution and transform it into an opportunity by having a presence on platforms which most often serve as a personal sphere for the individual.
Knowing the customer is now more than ever a must; data has never been so valuable. The challenge for the business is both collecting the data to improve its knowledge of the customer and exploiting it in order to meet its hyperpersonalisation requirement in terms of communication and service offer.
In this respect, digital technology raises the issue of personal data protection, a major challenge for the business. Essential, qualifying information about the individual must be accessed while complying with future European regulations (GDPR and e-Privacy). Can these regulations not serve as new opportunities to stand out by developing innovative techniques for protecting data from the moment it is created?
All of the above is just the beginning, because digital technology is the seed that tomorrow will grow into artificial intelligence. Another revolution will rewrite the norm again, perhaps to an even greater extent, and lead to changes in the individual's behaviour and, therefore, that of the business…
---
Three questions for Maurice Thévenet, Managing Director of FNEGE
How have the digital changes highlighted in Médiamétrie's study shaken the foundations of the way work is organised?
The changes highlighted by Médiamétrie's study remind us that the need for organisations to transform themselves doesn't just arise from new technologies or new tools; profound lifestyle changes are affecting organisations as a result of new practices of looking for information, communicating, purchasing goods and using services. Employees also enforce these changes because today it is no longer possible to maintain the illusion that there is a boundary between the behaviour of the consumer, the citizen and the worker.
In your opinion, have French businesses sufficiently integrated this new order? 
The corporate landscape stands out for its diversity in particular. Only journalists and politicians still talk about a business, an employee or a boss in the singular. The same goes for the integration of this new digital order. History has shown, however, that businesses have a boa constrictor's infinite capacity to digest new things. The FNEGE's recent event on this topic of transformations demonstrated that institutions manage to make significant changes to their modus operandi and business model, often without any publicity.
What is your view of data challenges for businesses and the public?
The production of data, access to data and data processing capacities are obviously considerable challenges that are unavoidable today. They should always be considered with the three hammer rules in mind. First, we never hurt ourselves because of the hammer: users must take care. Second, with a hammer, every problem becomes a nail: be careful not to expect everything from data. Third, it's always good to stop hitting your head with a hammer: you'll very quickly be able to see ways to overcome the negative effects.
---

Jamila Yahia Messaoud