Total Internet Audience in France in November 2020
Total Internet Audience in France in November 2020
Press release
The audience of mail and parcel delivery websites has increased by more than 50% in one year
Published on 06.01.2021

In November 2020, 52.8 million French people connected to the Internet during the month, including 45.5 million who connected every day. Although this number is unchanged from last year, on the other hand, the time spent on the Internet increased by 15.2%: 2 hours 32 minutes per day on average per French person (compared to 2 hours 12 minutes in November 2019).
While the second lockdown came into force on 20 October, the audience for websites and applications related to sending mail and parcels increased by 51.5% compared to November 2019.
23.5 million people visited these brands in November 2020, which represents 37.4% of French people, who used these services or sought information about the delivery of letters or parcels. Among working people, the frequentation rate exceeded half of individuals (50.6% of lower SPCs and 58.7% of upper SPCs visited these sites and applications). However, only 25.8% of those aged 65 years and over visited these websites in November.
With a peak of nearly 4.3 million unique visitors, Tuesday 24 November was the busiest day of the month for mail and parcel websites and applications.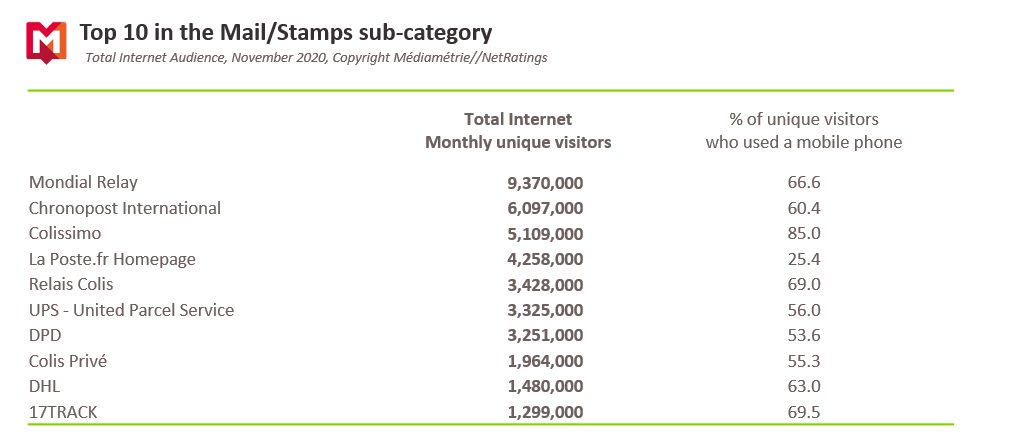 Please click on the icon to download the comprehensive press release. 
Download