Total Internet Audience in France in May 2020
Total Internet Audience in France in May 2020
Press release
Easing lockdown: travel, automotive, ads and property websites and applications are all experiencing a strong audience recovery
Published on 30.06.2020

In May 2020, the month in which the lockdown started to be eased, 46.1 people used the Internet every day; that is 73% of French people. This is 636,000 more than in May 2019 but 373,000 less than in April 2020, when the entire population was in lockdown.
Although the average time spent per day per French person on the internet fell slightly this month (-8%), usage remains at a very high level: 2 hours 45 minutes on the Internet per day and per person, or 27% more than one year ago.
As they were able to resume outdoor activities in May, French people spent less time on messaging services. So, during this month of easing lockdown and reopening of certain economic sectors, analysis of the largest audience increases shows very dynamic growth for websites and applications related to journeys (+49% daily unique visitors in one month for plans/maps/routes) and travel (+20% for hotels), but also for ads (+29%), the automotive sector (+27%) and property (+45%).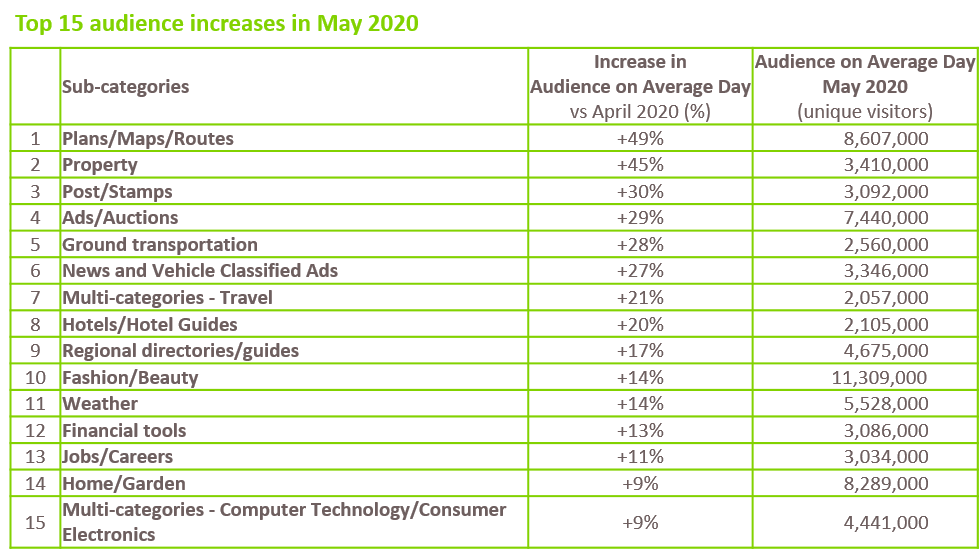 Please click on the icon to download the press release.
Download