Total Internet Audience in France in March 2020
Total Internet Audience in France in March 2020
Press release
Daily time spent online increases by 25% compared to March 2019
Published on 30.04.2020

In March 2020, the month when lockdown began, internet use rose significantly among France's 53.5 million web users (85.4% of the population).
Web users went online more often over the course of the month: every day, an average of 45.8 million individuals used the internet, that's 700,000 more than in March 2019. This figure represents 73.1% of the French population.
A major increase in time spent online was observed across all types of screen. In total, tablets included, each French person is estimated to have spent 2 hours and 35 minutes on the internet per day, an increase of 25% compared to the same period last year. This increase was 23% for smartphones, which alone accounted for 1 hour and 34 minutes of daily time spent online in March 2020; time spent online on computers increased at a similar rate, amounting to 40 minutes per day.
The online services that attracted the most additional daily visitors were essentially communicational, informational and educational websites and apps.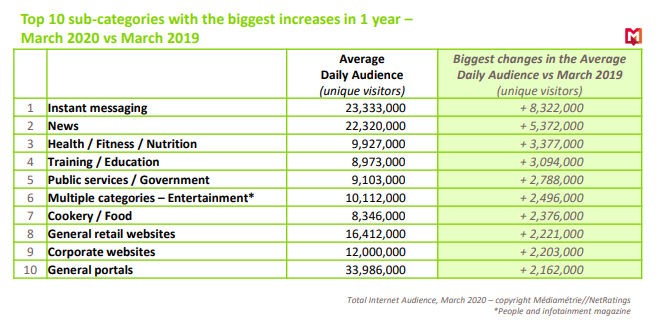 Please click on the icon below to download the press release.
Download