Total Internet Audience in France in July 2020
Total Internet Audience in France in July 2020
Press release
Seven out of 10 French people visited travel websites and apps in July
Published on 09.09.2020

In July 2020, 44.3 million people connected to the internet every day, or almost as many as one year earlier (44.4 million). After 4 months of intensive digital use, with a peak of 3 hours of surfing per day in April, time spent on the internet is back to pre-lockdown levels: French people each spent an average of 2 hours 13 minutes per day on the internet in July. This is 10% more than in July 2019 and as much as in January and February 2020.
Some activities continue to grow, despite a sharp decline during lockdown. So, overall, 45 million Internet users visited travel-related websites or apps during the month of July, or 7 out of 10 French people (71.7%); and each day the figure was 16.7 million, or more than one quarter of French people (26.6%). This proportion is even higher among those in higher income groups and 25-34 year-olds, with more than 4 out of 10 individuals. The sector is thus almost back to its audience levels from last year (17.6 million unique daily visitors in July 2019).
Each day, 3.6 million Internet users visited hotel booking websites (+ 4% vs. July 2019), 3.6 million went to travel booking websites (-10%) and 1 million surfed to tourist websites and apps (+ 9%).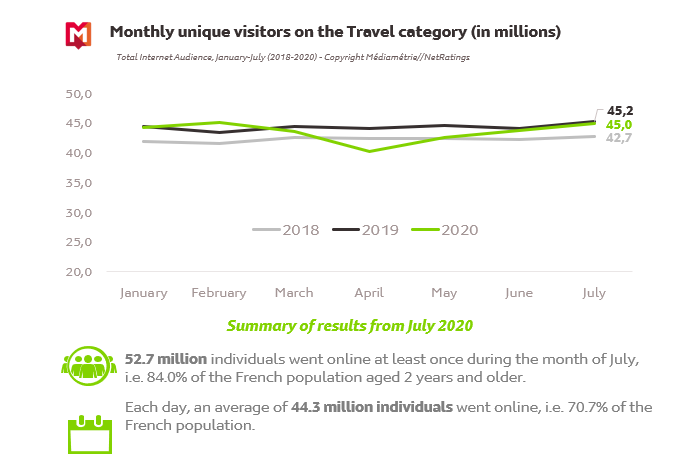 Please click on the icon to download the press release.
Download