Quarterly barometer of the e-commerce audience in France
Quarterly barometer of the e-commerce audience in France
2nd quarter of 2018 - More than 37 million online shoppers in France
Publié le 10.09.2018

According to the Médiamétrie Internet Usage Observatory for the 2

nd

quarter of 2018, 37.4 million web users have already made an online purchase, which represents almost nine out of 10 (86.2%) web users aged 15 years and over. That is 488,000 more online shoppers than a year ago.
For Jamila Yahia-Messaoud, Director of Médiamétrie's Consumer Insights Department: "The use of e-commerce is intensifying year on year: 23 million web users, or more than half of them (52.8%), made an internet purchase during the past month. That is 1.5 million more than last year. In terms of screens, mobile phones have the wind in their sails and are now rapidly closing the gap on computers."
Marc Lolivier, Managing Director of FEVAD, added: "In the light of the figures, it can now be said that e-commerce has spread to French people as  a whole and is becoming transgenerational: more than eight in 10 (81.5%) over 65s – the population with the least affinity with online shopping – have already used this feature. This is nine points more than in 2017 and 25 points more than in 2016".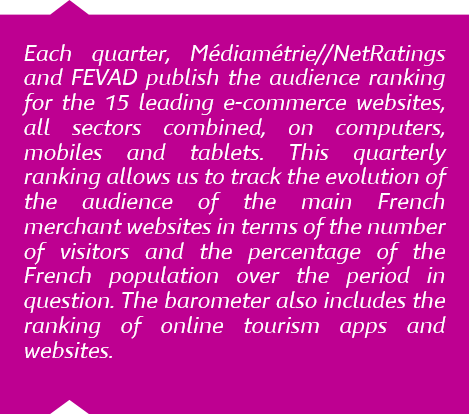 Please click on the icon to download the comprehensive press release.