Online video: who are Netflix's audiences?
Online video: who are Netflix's audiences?
NetLetter November 2018
Published on 22.11.2018
According to the latest SVoD Barometer published by Médiamétrie on 15th October 2018, 30% of internet users have used a paid-for subscription video service during the last 12 months, i.e. a 10-point increase on December 2017. The best known service – Netflix – releases the number of its new subscribers, however, what of their profile, consumption habits and favourite content? The internet audience measures can shed light on this.
Spring 2018 was a very good time for Netflix: in three months, it attracted 3 million additional unique visitors online (computer - mobile - tablet) and reached 9 million by May 2018. This increase was widely reported in the media, which asked two fundamental questions: Who are these new web users being drawn to the SVOD site, and what are their motivations?
Those aged 15-24 fall into one of the population segments with the highest conversion rates: since the peak this spring, almost one third of this age group has browsed the Netflix site or app each month.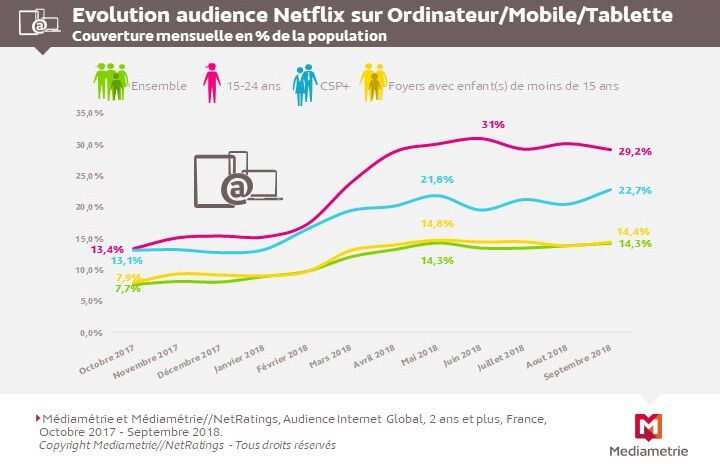 15-24 year olds accounted for almost one quarter (24%) of Netflix's 3-screen audience in September 2018 and up to 28% of the hours spent watching the service, whereas this age group represents just 12% of France's population.
An examination of population segments that are over-represented in Netflix's audience allows us to define the profile of visitors to the Netflix sites and apps. These segments tend to be over-consumers of audio and video content: they are more likely than the average subscriber to buy movies and series as VOD; they love to catch-up TV on the internet and video games; they are avid cinema-goers and are very active on social networks; they subscribe to a music streaming service and also regularly order take-away food for home delivery!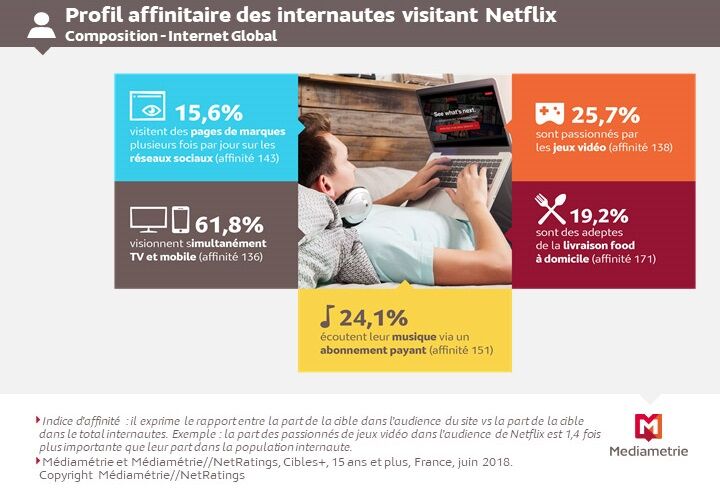 Do TV and SVoD share the same prime time? Indeed, analysis by time slot shows an audience peak for Netflix between 8pm and 10pm: during the week, 39.3% of daily visitors log in during this time. The weekend prime-time is slightly less pronounced: 37.7 %. Netflix consumption via mobile among 15-34 year olds is more widely spread throughout the day: during the week, only 24.8% of daily visitors log in during the peak hours from 8pm to 10pm.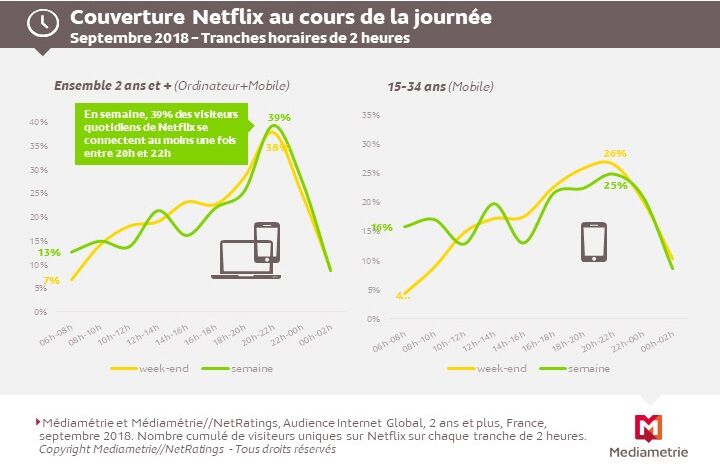 Has Netflix grown constantly? In terms of time spent on the platform, the springtime peak (which coincided with the release of season 2 of the hit series Money Heist) gave way to a decline that began in May. Upper SPC was one of the viewer segments that reduced their time spent the most (down 40% in September compared to the March peak), whilst households with children were a group that held up better (-19%).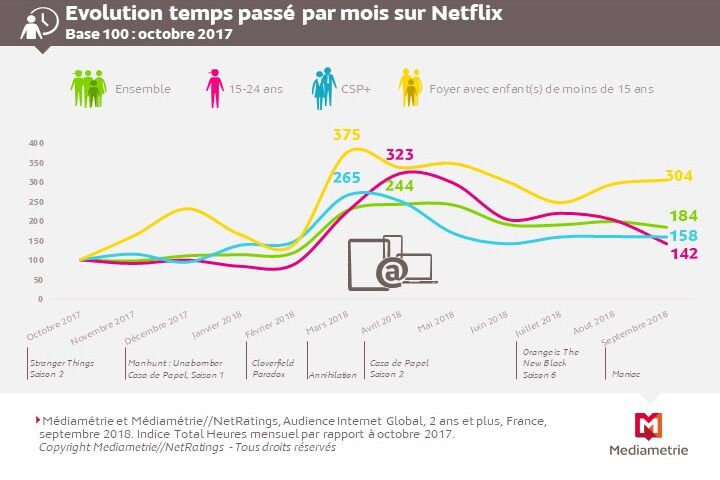 Which content guarantees success for Netflix? To answer this question, from now on, Médiamétrie will produce a monthly chart of the most watched content on Netflix, based on its benchmark Total Internet audience measure. Which are the most popular series? How important are Netflix original productions in the successful audience ratings? To what extent is the catalogue of French films viewed on Netflix? These questions ought to arrive at a closer definition of the audience's tastes in terms of video.
And so, in September, the podium for computer audiences was basically occupied by recently released new seasons of Netflix original productions: Orange is the New Black and Cable Girls. New Netflix series, including Maniac, The Innocents and Sierra Burgess is a Loser, also garnered significant audiences. In general, Netflix exclusives took half of the top 10 rankings.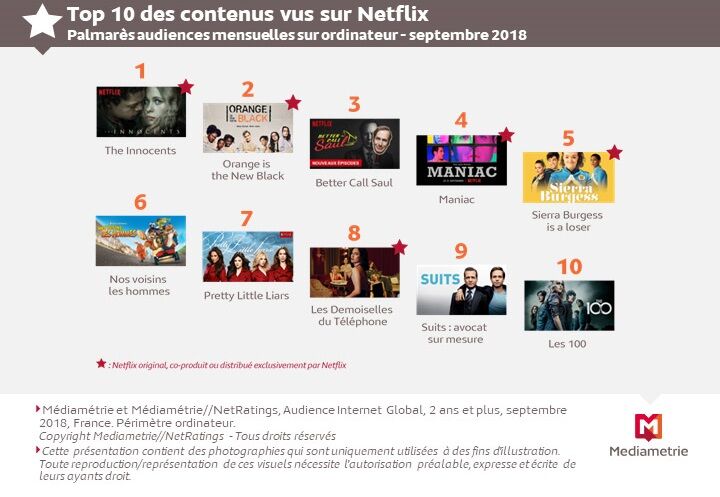 To support the market in its understanding of SVoD development, Médiamétrie's new "Global SVoD" offering comprises a half-yearly study whose first results will be published in January 2019, as well as rankings for the most popular programmes. The bi-annual study will comprise two components: SVOD volume statistics including background of the practice and the public's user behaviour.
Sources: