Is there a prime time on the Internet?
Netletter - June 2018
Published on 14.06.2018

On the Internet, the monthly unique visitor is the benchmark in the Market, but with the everyday power of mobile screens, new analyses make sense. Thanks to the new granularity of its Total Internet Audience measurement, Médiamétrie can offer a minute-by-minute view in order to more effectively hone in on its target. How do web users manage to surf the whole day long? In common with other mass media such as television and radio, does the Internet have any prime time slots? And does mobile surfing, which is accessible any time and any place, lessen the notion of audience peaks?
If we analyse Internet consumption per one hour time slot (across a Monday-Friday average): a visit frequency peak emerges between 6pm and 7pm, on all screens. Every day, 23.3 million individuals connect during this time slot, which accounts for almost half of all web users (45%). The exact time when there are most web browsers is 6.42pm, when 6.8 million individuals are surfing the web. So, the Internet audience peak would take place earlier than the television audience peak, for example, for which the exact time with the biggest audience is 9.10pm. It should be noted that there is a second Internet peak when the pre-evening audience nexus happens, between 8.30pm and 9pm.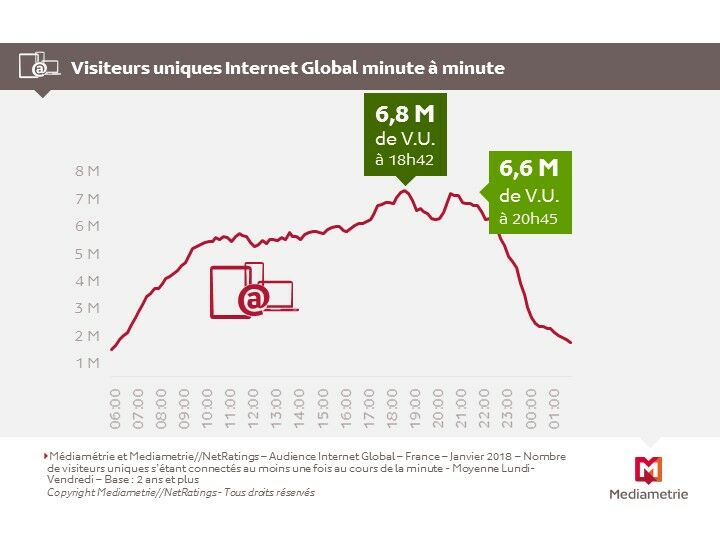 Looking at mobile connections: an initial audience peak occurs between midday and 2pm, before a second peak between 6pm and 7pm: 49% of daily mobile web users connect at least once during this timeframe, which often coincides with the end of the working day. Finally, the last peak of the day takes place around 9pm: each minute between 9pm and 9.10pm inclusive features in the top 15 minute-by-minute mobile audiences, with 3.6 million mobile Internet users opening at least one session each minute.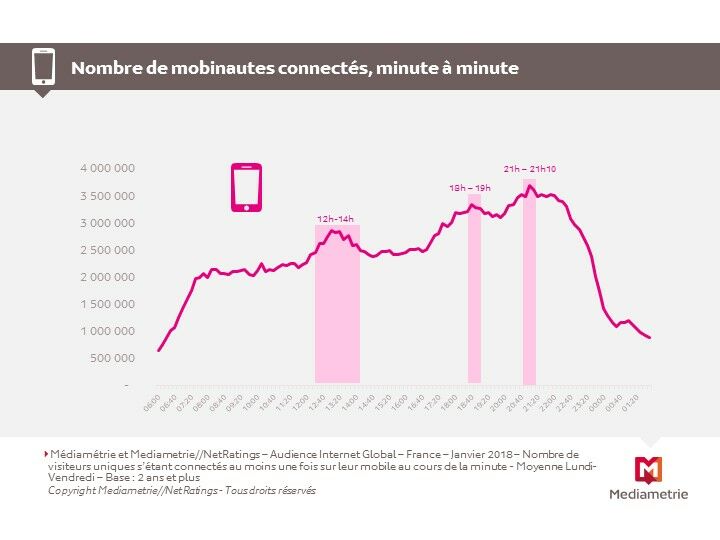 If the notion of prime time is studied across a selection of activities enjoyed by Internet users, it will be observed that some of these convey a genuine prime time effect which sometimes lasts until as late as 10pm.
On computers, there are therefore a large number of visitors to video websites between 6pm and 7pm: over 1 million Internet users connect to them during this time slot. On average, they spend 12 minutes involved in this activity. Almost a third (32%) of the time each day spent on YouTube on a computer is thus in the evening, between 6pm and 10pm. Online games on a computer also show a pre-evening audience peak: almost 1 million Internet users connect to this activity at least once between 6pm and 7pm.
On a mobile phone, behaviours are different. The audience peak for online games is later, between 9pm and 10pm, with almost 2 million Internet users connected at least once during this time slot (they spent an average of 17 minutes doing this). Instant messaging, which was designed for mobile phones, has a peak that spreads between 8pm and 10pm. These late-evening digital conversations prove to be particularly important for 15-24 year olds: between 9pm and 10pm, one in four young people chatting each day via instant messaging connects to the service.
Now an indispensable activity during the day, watching videos on a smartphone also has a prime time: almost 2 million mobile Internet users surf video websites and apps on their smartphone between 8pm and 9pm , each spending an average of 12 minutes doing this.
But it is once again social networks that prove to be the most impressive: during the 8pm to 9pm peak, mobile social media receives 7.2 million unique mobile Internet user visits, which is almost a third of its daily visitors (32%). For 15-24-year-olds, the peak occurs later: 1.7 million young mobile web users connect to social networks at least once between 9pm and 10pm, which is 40% of the daily mobile social network visits for 15-24 year olds.
Is this evening Internet prime time – which takes different forms depending on the activities and targets – capable of breathing new life into Moment Marketing-based campaigns? In order to devise these pioneering strategies, analyses of time slots are available as an ad hoc study.