Millennials and the Internet: stereotypes vs. actual practices
Netletter - December 2017
Published on 14.12.2017

Millennials. There is no escaping this term, which was coined for young people born between 1980 and 2000, and there are many stereotypes about their multimedia practices. How do these stereotypes compare to their actual Internet practices? Médiamétrie paints a digital portrait of 15-34 year olds.
Stereotype 1: Millennials are always on the Internet
Although for the French population (34.4% of media contacts per day) television is the number one media type, for Millennials it drops to second place, yet it still accounts for 20.5% of contacts. Mobile takes the number one spot amongst Millennials. It accounts for 26.7% of media contacts per day (excluding music, videos and video games) in this age group, compared with 14.0% for the population as a whole, i.e. a difference of 16.7 points. Computer and tablet screens account for 14.9% of media contacts per day amongst Millennials.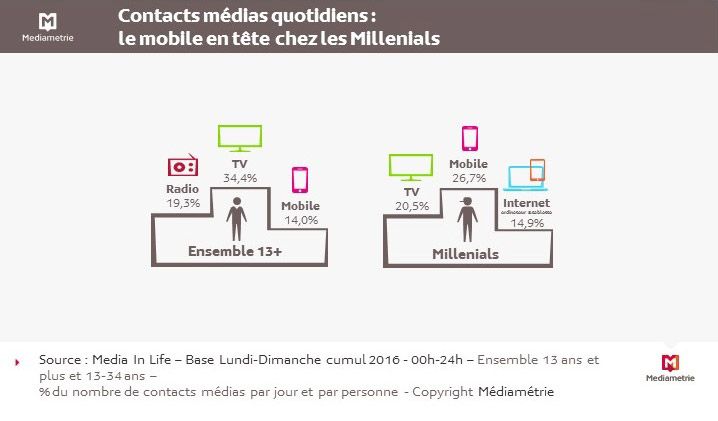 13 millions de Millennials ont visité au moins un site ou une application en septembre 2017, soit 9 jeunes Français sur 10. L'engagement envers le média Internet est particulièrement fort chez cette cible : 88,9% de ces jeunes internautes se connectent tous les jours, contre 82,2% pour l'ensemble des internautes.
Idée reçue n°2 : les Millennials passent leur temps sur les messageries instantanées
13 million Millennials visited at least one website or app in September 2017, which represents nine out of 10 young French people. The commitment to the Internet media is particularly strong amongst this target: 88.9% of these young web users connect every day, compared with 82.2% for web users as whole.
Stereotype 2: Millennials spend their time instant messaging On average, Millennials spend just over 22h30 each month on their computer compared with almost 32 hours on their mobile (compared with 27 hours for mobile web users as a whole).
However, instant messaging is only one of the three categories of activities which Millennials spend most time doing: instant messaging only accounts for 5% of the time they spend using their mobile.
Online games, videos and community websites are the three favourite activities of Millennials: accounting for over half of the time they spend using their mobile.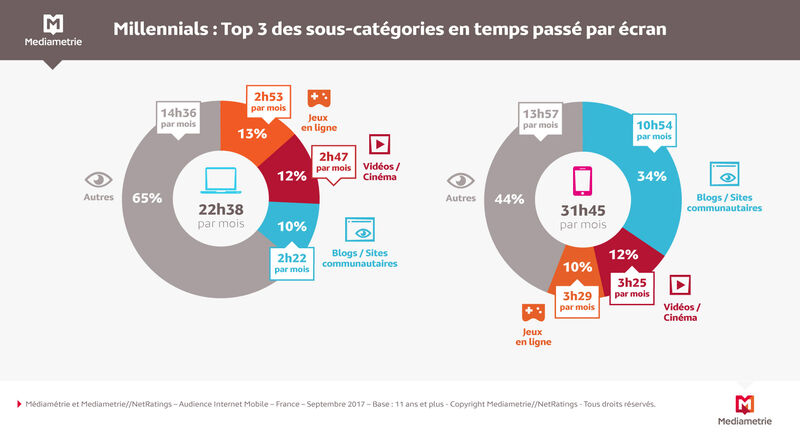 Although 15-34 year olds account for half the mobile time in the Videos/Cinema category, the apps becoming more popular with them are those which are closely linked to their everyday lives: clothes, travel, declaring tax or planning trips away.
Stereotype 3: Millennials only ever use chat and video apps
In terms of time spent on a mobile, the preference for apps is indisputable, even though there is a slight difference between the 15-24 and 25-34 year old groups: 84% of the time spent on mobiles by 25-34 year olds was taken up with using apps, whereas this proportion rose to 91% amongst 15-24 year olds (and 87% for mobile web users as a whole).
The apps with the biggest increases in visit frequency by Millennials in recent months are those which are closely linked to their everyday lives: clothes, travel, declaring tax or planning trips away.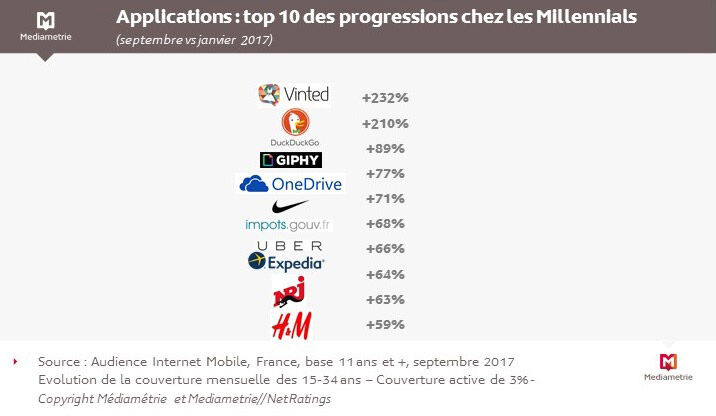 Stereotype 4: Millennials are not interested in the news any more
News websites and apps attract Millennials: 11.1 million of them visit this category each month, i.e. 85% of web users aged between 15 and 34 years old. They account for 29% of this category's audience.
Millennials are also partial to news that is directly broadcast on platforms, such as the Facebook Instant Articles and Google AMP formats. They account for over 40% of the audience of certain deportalised content currently measured by Médiamétrie, although they only make up 28% of web users as a whole.
Stereotype 5: Millennials are a homogeneous population
Although it is customary to talk about Millennials as a homogeneous population, some differences between the youngest and the eldest in this category were noted. For example, 94% of 25-34 year olds are mobile web users, whereas this is the case for only 79% of 15-24 year olds.
In terms of brands, although 15-24 year olds and 25-34 year olds prefer Google, YouTube and Facebook, the monthly audiences rating reveals different interests depending on their age: Snapchat in 4th position for 15-24 year olds but Le Bon Coin for 25-34 year olds.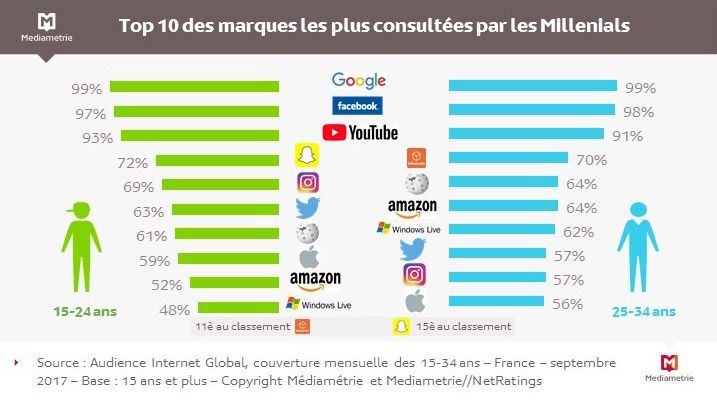 Moreover, 25-34 year olds spend 39% of their mobile time on the Facebook, YouTube and Google apps. Amongst 15-24 year olds, the Snapchat, YouTube and Facebook applications account for over half the mobile time (56%), half of which is spent on Snapchat.
Although Millennials generally have a special relationship with mobile phones, with a real attentiveness to and significant consumption of new information practices such as deportalised content, there are differences between the preoccupations of 15-24 year olds (secondary school and further/higher education students) and those of 25-34 year olds, who are establishing their professional and family lives.
Source : Médiamétrie – Mediametrie//NetRatings – Total Internet Audience – France – September 2017 – Base: 15 years and older / Mobile Internet Audience - France - September 2017 - Base: 11 years and older / Computer Internet Audience - France - September 2017 - Base: 2 years and older - All sites - Copyright Mediametrie//NetRatings - All rights reserved
Media In Life 2016 - Base 13-34 years old - Copyright Médiamétrie - All rights