Mobile phones: how to carry your bank in your pocket
Mobile phones: how to carry your bank in your pocket
June 2019 Netletter
Published on 26.06.2019
Each month, 42.8 million internet users browse banking/finance/insurance websites and apps. More people now use a mobile phone (32.4 million unique visitors in April 2019) than a computer (29.1 million) to browse them. And when they use a smartphone, they now spend twice as long on apps as they do on websites.
The success of the app format in the financial universe corresponds to a rather distinct profile: Most banking app users are in the 25-34 age group (23.6%, whereas they account for only 12% of the French population) and in the upper SPC (33.8%, whereas they account for only 22% of the population).
Which apps attract the most interest? In the monthly audiences Top 15, a few outsiders stand out from the established French stakeholders. Here is a quick overview of the main stakeholders and services offered.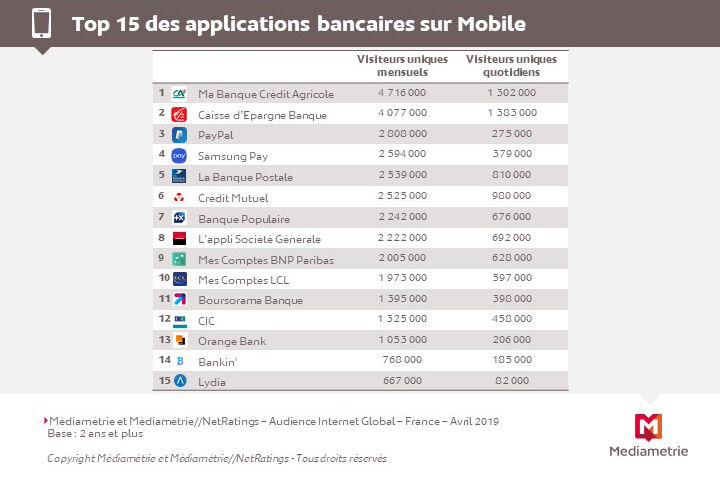 Ranked at number one, with 4.7 million monthly unique visitors in April 2019, Crédit Agricole's "Ma Banque" app offers traditional services such as checking your account and making transfers. This same stakeholder also provides the "Ma Carte Crédit Agricole" app, which attracts 300,000 monthly unique visitors. This app eliminates the need for a bank card when paying in shops or at home, with customers using a smartphone instead. Rated number two is the Caisse d'Epargne's "L'Appli Banque" app, which also attracts over four million unique visitors.
Will paying in a physical shop using a mobile phone become commonplace in France? Several other stakeholders are positioning themselves on this market, such as the Korean Samsung Pay, which was launched in April 2018 and now attracts 2.6 million monthly unique visitors, as well as "Pay" by Google and Apple.
France also has its fintech apps: LyfPay, which can be used for payment in a physical shop via a QR code (270,000 monthly unique visitors), Paylib, which is directly integrated into banks' native applications, or Izly, which is offered by the CROUS for payments on university campuses (619 ,000 unique visitors). Naturally, Izly's audience comprises a large proportion of young people (61%).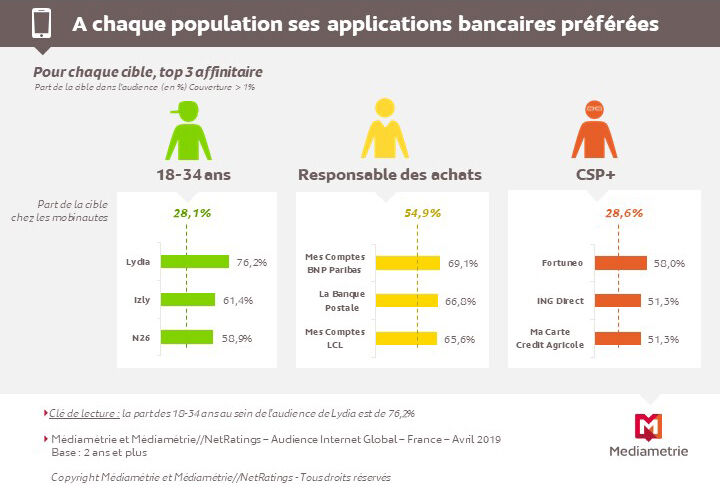 Alongside contactless mobile payment, there are also pureplayers offering increasingly diversified banking services focusing on a simple and practical user experience. This is the case for a French creation which allows individuals to exchange money between themselves by directly entering an email address or telephone number. Lydia. The app now attracts 667,000 monthly unique visitors.
Another alternative service is the option to combine and consult in real time multiple accounts from different banks. Here too, French start-ups are positioning themselves on the market: Bankin' (768,000 unique visitors) is connected to several hundred banks through four countries (France, United Kingdom, Germany and Spain); Linxo (424,000 unique visitors) has developed a partnership with the MAIF mutual insurance company, Nestor, which is compatible with Banque Postale, BNP Paribas, Caisse d'Epargne, Crédit Agricole, Fortuneo and LCL.
The Belgian app Tricount, which enables individuals to make account transactions amongst themselves, attracts 653,000 unique visitors. Finally, N26 (408,000 unique visitors), Revolut (196,000 unique visitors) and the French app Nickel (387,000 unique visitors) allow people to open a bank account in just a few minutes using their mobile, without any income conditions, while also making money transfers easier. Although payment in a physical shop using a mobile app is still far from being used by all French people, these new fintech services, which offer mobile web users greater freedom and lower costs, could lead to their audiences increasing. Between regulatory changes, disintermediation and original services, Médiamétrie will be committed to measuring these future innovations.
Source: Médiamétrie and Mediametrie//NetRatings – Total Internet Audience – France – April 2019 – Base: two years and older – Copyright Médiamétrie//NetRatings - All rights reserved