Mobile gaming: the new stars of handheld gaming
Mobile gaming: the new stars of handheld gaming
Here is an overview of the profile of mobile gamers and the top applications of the year.
Published on 09.12.2020
With this second lockdown, Zoom meetings have sometimes turned into remote games of chess or Pictionary. Games are therefore taking up more and more of our daily lives, often driven by the ever-increasing use of smartphones. 92% of our mobile surfing time is devoted to application format, but, when it comes to games, this rate rises to 99%. After a peak in gaming usage during the first lockdown, here is an overview of the profile of mobile gamers and the top applications of the year.
While the audience for games applications has been stable since January 2019, with between 12 and 13 million unique visitors to the category every day, during the first lockdown in April and May 2020, 14.4 million people logged on every day, or 23% of French people. This result reflects an increase of 12% compared to last year at this time.
During lockdown, these more numerous gamers also spent more time on gaming applications, with increases of over 50% compared to last year. In April, the time spent on these apps reached 20 minutes per day per French person (to find out more about the daily surfing time curve, click here)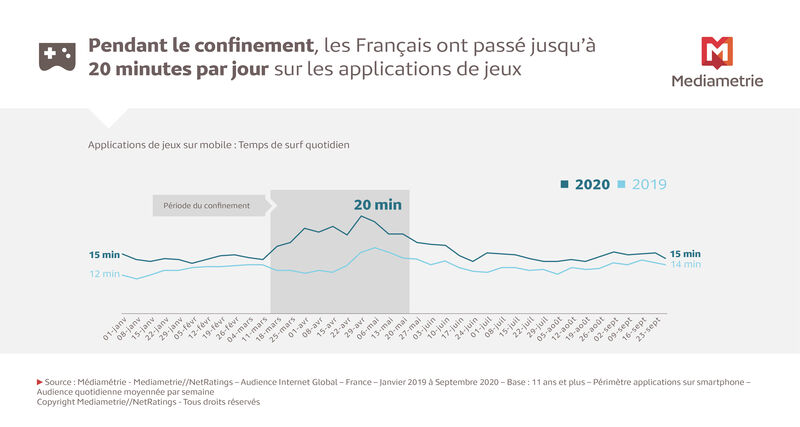 What is the profile of these gamers?
In September 2020, one third of French people aged 11 to 24 years visited gaming applications every day, while only 14% of those aged 50 years and over did the same. (to find out more about daily coverage for the whole of France, click here).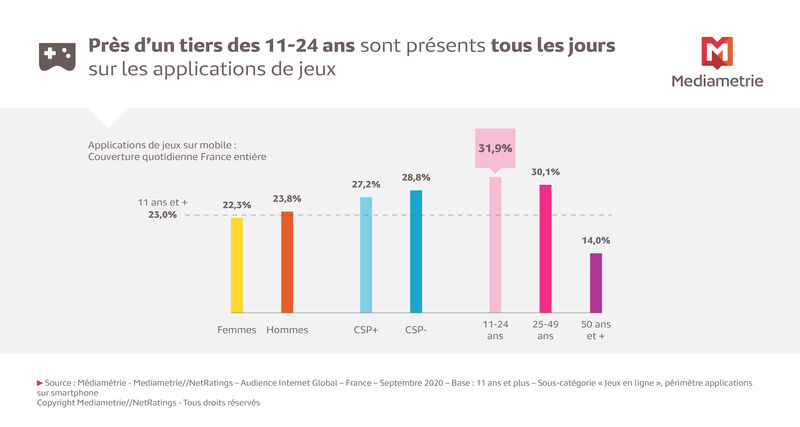 But it is better to refute the idea that only young Internet users are addicted to games: working people are also over-represented among the daily audience of these gaming applications.
In terms of time spent, 25-49-year olds even come out on top, with just over 20 minutes per day and per individual devoted to gaming applications during the first quarter of 2020. During lockdown, they were also the ones whose use of these apps increased the most, with 30 minutes per day at the end of April, i.e. +10 minutes compared to the first quarter. (to find out more about the comparative curve of daily surfing times per individual, click here).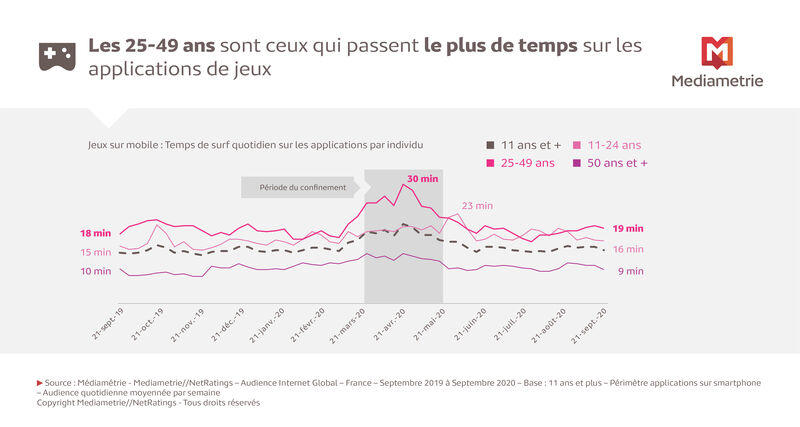 During the summer, this over-consumption died down to gradually return to the level before lockdown. In September 2020, the time spent by 25-49-year olds on gaming apps returned to its September 2019 level.
As regards the June 2020 peak, when young people spent an average of 23 minutes per day on gaming applications, Pokémon GO, which was neglected during lockdown because it is only used outdoors, and Brawl Stars, saw increased uses.
Which gaming applications were popular with mobile users before and after lockdown?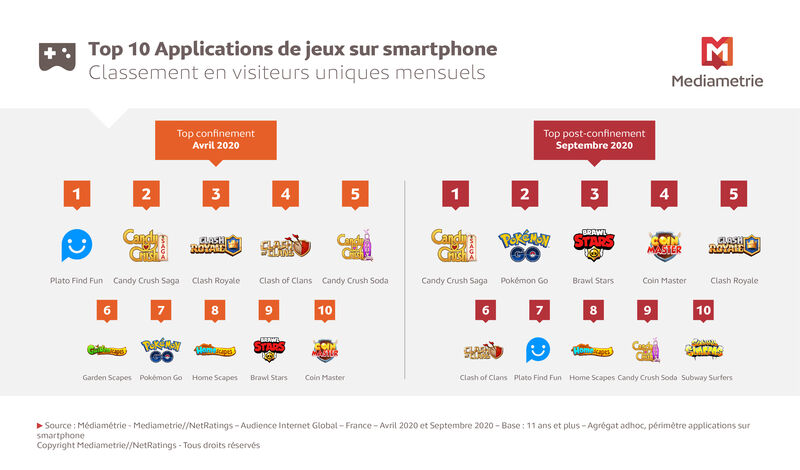 To find out more about the top 10, click here
The Candy Crush Saga and Candy Crush Soda Saga franchises from the British publisher King still feature in the rankings, as does Pokémon Go, followed by the licences of Finnish company Supercell (Brawl Stars, Clash Royale) and Coin Master. The historic Call of Duty, for which Activision released a mobile version one year ago, is also achieving good audiences. French publisher Voodoo is another publisher whose mobile games have a large audience (Paper, Helix, Scribble Rider, etc.). Many independent studios also make this universe a particularly dynamic environment, as demonstrated by the Among Us application from American company InnerSloth, which, from its first month of publication in September 2020, exceeded one million unique monthly visitors and picked up thousands of followers on Twitch.
Each population has its favourite games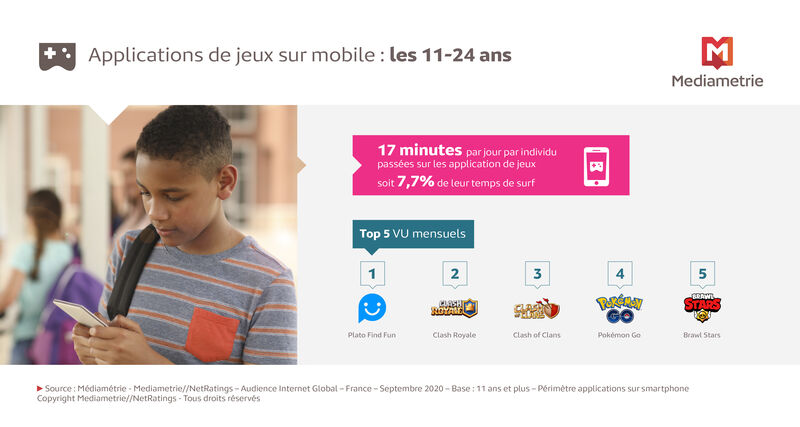 In September 2020, 11-24-year olds were the most present on gaming apps on a daily basis and they also spent more time on them than the French average. However, given their very long surfing time on the internet in general, gaming apps only represented 7.7% of their surfing time, while the ratio is 9.2% on average among French people.
If we look at targets with a particular affinity for gaming applications in September, such as women aged 50 years and over (time affinity 175) and SPC+ men (time affinity 134), we see very different ranking, but betraying a certain taste for gaming!