A guide to detecting the internet gems of the future
June 2019 Netletter
Published on 26.06.2019
We spend almost half our browsing time on just five brands. However, disruptive stakeholders appear on a regular basis, reshuffling an entire sector. How can strategic movements be anticipated?
In early 2016, the new e-commerce services Wish and Vinted emerged. They are both now placed in the top 15 e-commerce stakeholders published by Médiamétrie with Fevad. In December 2017, the French app Yuka set out to win the hearts of mobile web users by responding to people's emerging desire for healthier food. It now has more than five million monthly visitors. In August 2018, the Chinese company ByteDance moved users from Musica.ly to TikTok. A few weeks later, TikTok had become one of the favourite apps of 11-14 year olds.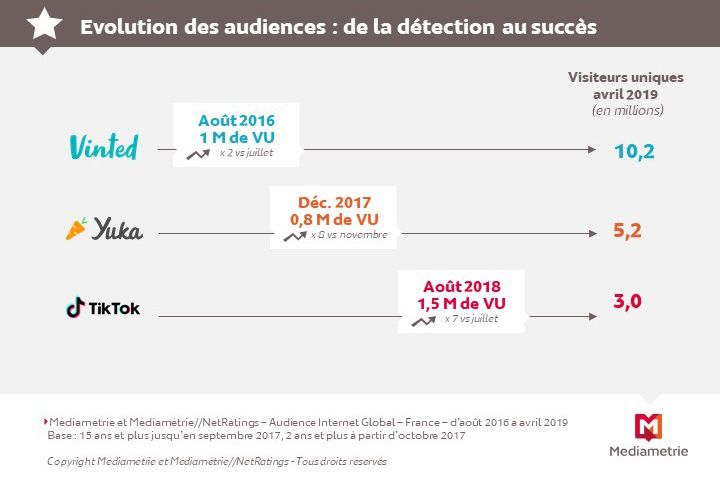 Last year, almost 50,000 new digital brands were added to Nielsen's worldwide catalogue. How can websites with potential be detected amongst the stakeholders emerging every day? Thanks to its 25,000 internet users who are representative of the French population, Médiamétrie identifies new digital trends as soon as weak signals are spotted.
TREND-e is a competitive deciphering service based on the Total Internet benchmark audience measurement. Each month, taking the audiences of the 6,000 websites and 1,000 apps published in the measurement, a qualitative and qualitative analysis (seasonal effects, events, acquisitions, etc.) is used to examine market changes and decipher the positioning of the emerging brands in complex competitive universes.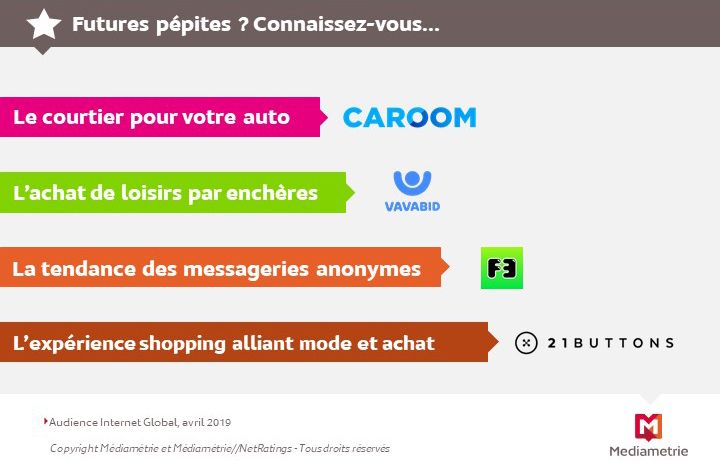 This overview of the leaders, challengers and outsiders for 16 large competitive sectors (social media, TV/radio, press, e-commerce, travel, fashion, cooking, etc.) is aimed at all digital professionals who wish to enhance their strategic monitoring.
Offer available from June 2019