Global SVoD 2018
Communiqué de presse
5.5 million daily SVOD users – 61% more than a year ago
Published on 11.04.2019

SVOD users keep increasing at a fast pace in France. They are generally young and tech-savvy as are new parents, singles and millennials. SVOD generally adds to other media practices such as television. High levels of satisfaction among users predict a significant growth potential on the French market.
The rise of SVOD: 2.1 million additional daily users within one year
The Global SVOD study reveals that 5.5 million French people aged four years and older use an SVOD service daily, i.e. 9% of the population. SVOD has gained 2,1 million daily followers within one year, which means that the practice has increased by 61% from last year and has progressively become commonplace among French people.
Marine Boulanger, Manager of the Film and Entertainment department at Médiamétrie adds: "Today, nearly nine out of 10 French people know at least one SVOD service. This high awareness is due to a multitude of factors including word of mouth, the multiplication of platforms and the strong communication around original or exclusive content."
SVOD: A young and tech-savvy audience
The average SVOD user is 34 years old and rather tech-savvy. In terms of screens, this person is better-equipped than the rest of the population. This person is also more likely to own a gaming console, an HDMI TV dongle* or a smart television.
Certain profiles stand out. At the top of the list are new parents and singles: six out of 10 of them have used an SVOD service in the last 12 months. More generally, Millennials** are avid users: one in two of them has used an SVOD service in 2018.
SVOD: a complementary practice, for all screens
SVOD is present in the everyday life of French people and is sometimes complementary to other media practices. For example, 58% of SVOD users watch live TV every day or almost every day, in tune with the population average. The same is the case for half of SVOD users who listen to the radio, and two-thirds of them state that they read as much as before.
Although the television is the main screen used to access the SVOD platform, 75% of SVOD users also use another screen, whether it be: a computer, smartphone or tablet. Computers are used by more than one in two users (55%) and by almost three out of four Millennials (73%).
* USB stick that transforms any TV, projector or monitor with an HDMI port into an interactive multimedia PC.
** individuals aged between 13 and 34 years without children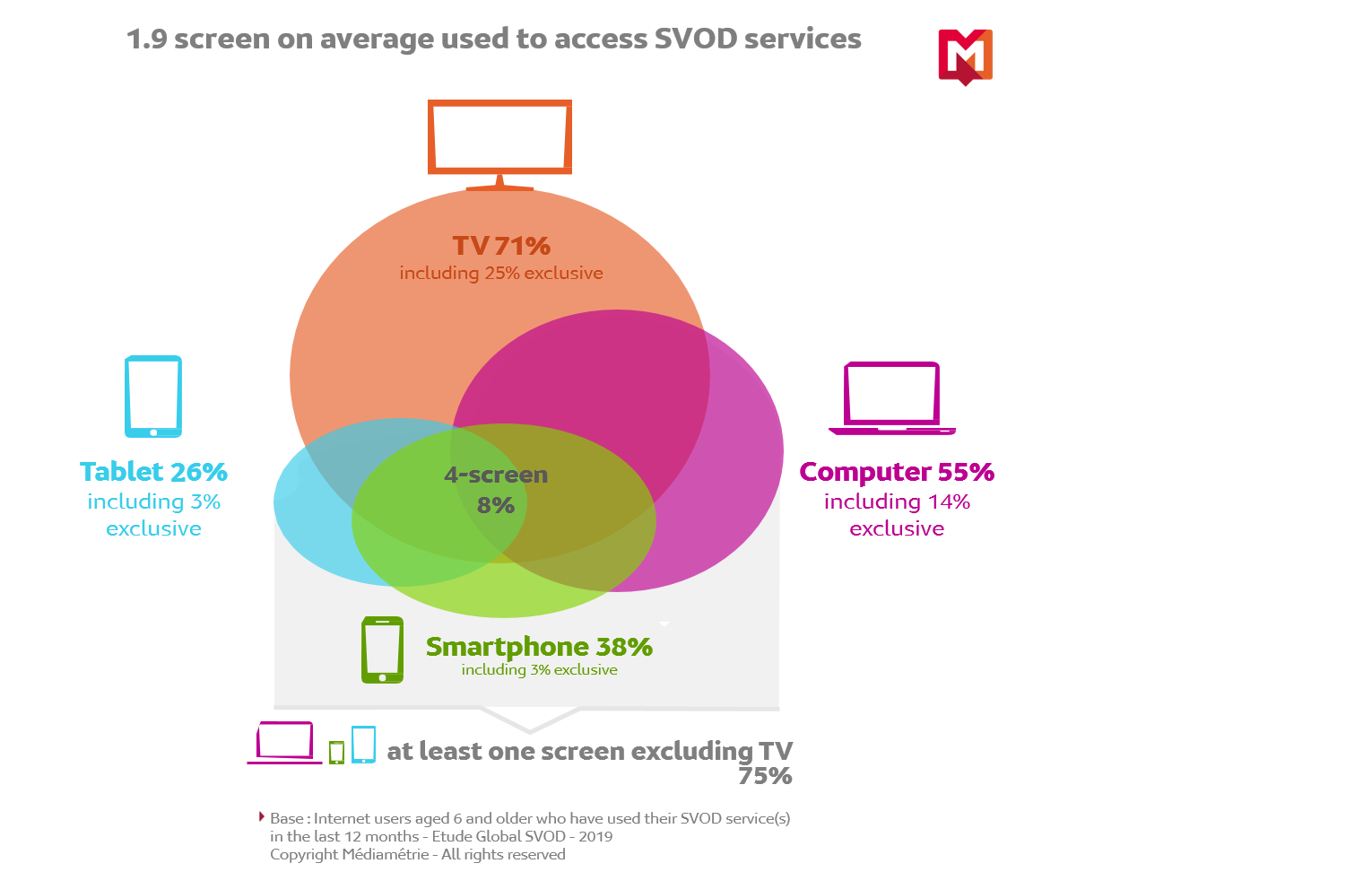 Most-watched series and films in December via a computer

*Bandersnatch was watched by 145,000 Internet users via their computers between 28 and 31 December 2018.
These two rankings present the most-watched films and series on Netflix via a computer in December 2018. In the next publications, subscribers of Total SVOD will have access to a monthly ranking on computer and smartphone with the audience data of each programme.
These results come from the Total Internet automatic audience measurement certified by CESP.
SVOD meets the expectations of a loyal audience
Almost six out of 10 SVOD users access their platform every day. They are very satisfied and award their service a mark of 8.3 out of 10. As a result, 96% of them wish to continue their subscription. 15% of them even plan to subscribe to a second platform.
Whatever the platform, qualities are attributed to SVOD by the general public: video by subscription is synonymous with simplicity, practicality and comfort. Other advantages of SVOD are also highlighted, such as the richness and diversity of content available on demand.
SVOD users recommend the service to non-consumers, mainly through word of mouth: 2.4 million people plan to subscribe for the first time to a service within six months.
Expectations, practices and behaviours differ depending on the platforms, their positioning and their content offer. There is therefore no single profile for SVOD users, but rather a multitude of profiles with complexities that must be understood.
Please click on the icon below to download the comprehensive press release.
Download