Global Radio - Wave September-October 2018
Global Radio - Wave September-October 2018
Each day in France, 6.7 million people listen to the radio on multimedia devices
Publié le 13.12.2018

Nearly 43 million French people aged 13 years and older listen to the radio every day. This audience, which was measured in the 126 000 Radio study, takes into account all public listening devices, both those dedicated to radio and digital devices.
The Global Radio module of the 126 000 Radio study can be used to analyse digital radio listening behaviour. The new edition reveals that 12.3%of French people aged 13 and older, i.e. 6.7 million of them, listen to radio every day on a digital device. A stable level compared with September-October 2017.
Mobile phones are still the top digital device used to listen to the radio, with 3.8 million people using this method every day. Mobile phones are followed by computers (1.5 million listeners), the television (950,000), tablets (465,000) and portable audio players (115,000). For the first time, the survey includes voice-controlled speakers, which attract an average of 239,000 listeners each day.
In addition, almost 2 million people, i.e. 3.7% of the population, listen to catch-up* radio each day. Each listener spends an average of 1 hour and 1 minute per day doing this.
* Catch-up radio includes all forms of time-shifted radio listening.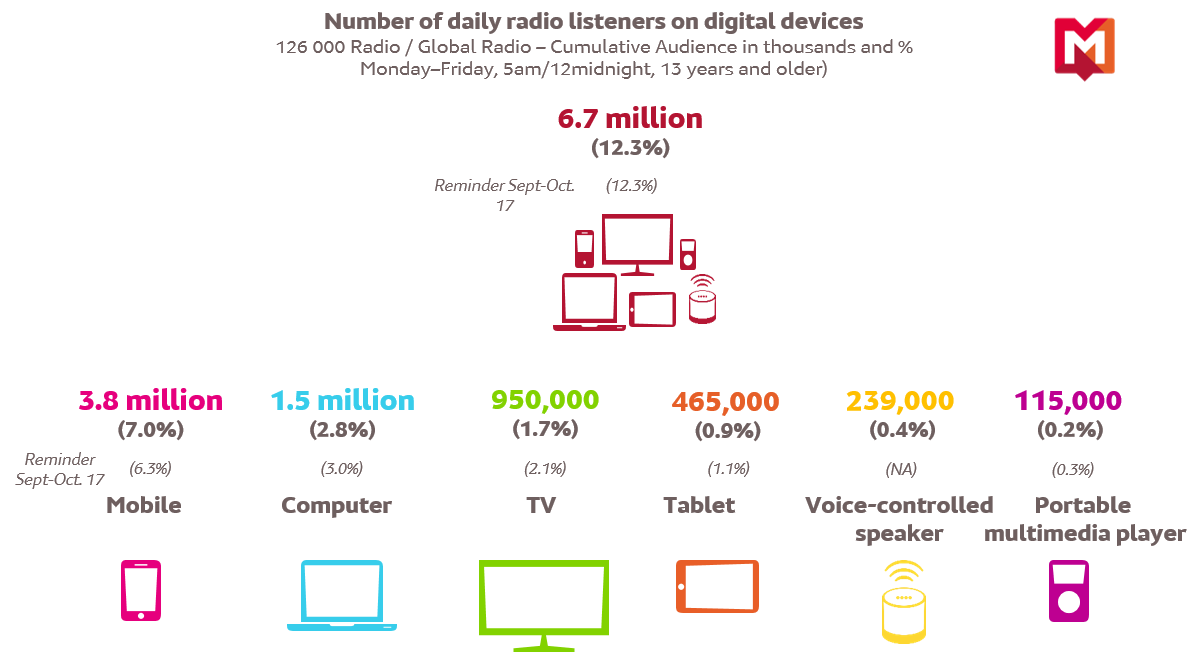 Sur les supports multimédia, la durée d'écoute s'établit à 2h17 en moyenne par jour et par auditeur, soit 22 minutes de moins que sur des postes de Radio (2h39).
L'ordinateur est le support digital sur lequel on écoute la Radio le plus longtemps (2h48 en moyenne par jour et par auditeur), soit 51 minutes de plus que sur le téléphone mobile (1h57).
Les supports multimédia représentent 12,8% du volume total d'écoute de la radio, qui prend en compte le nombre d'auditeurs et le temps qu'ils consacrent à la radio chaque jour, niveau jamais atteint (soit une progression de 1,4 point vs Septembre Octobre 2017).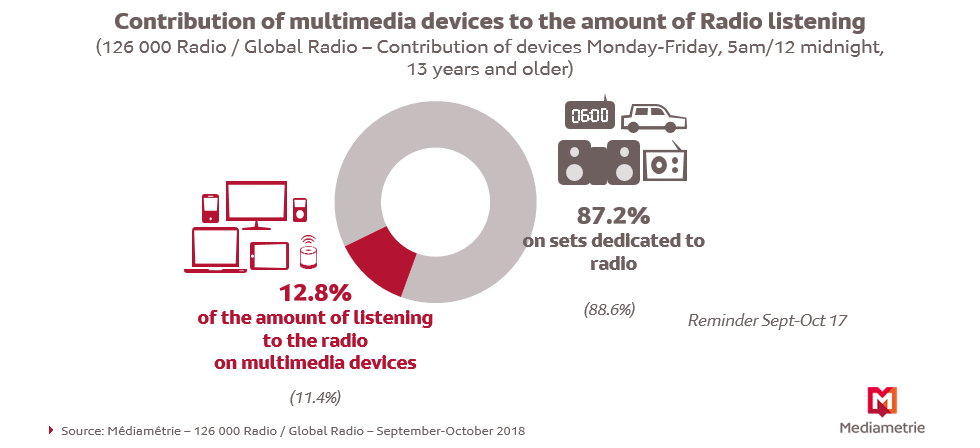 Please click on the icon to download the comprehensive press release.