Global Audio
Press release
Audio is being boosted by digital listening
Published on 05.05.2021

With the Global Audio study, Médiamétrie provides a consolidated and accurate overview of audio consumption in France.
Global Audio analyses all audio usage by Internet users: radio, podcasts, audio books, music streaming musical and personal music.
Over 96% of

Internet users listen to audio content every month
Radio is the most popular audio offering.
Each month, nearly 9 out of 10 Internet users (86.4%) listen to live Radio. They are also increasingly listening to it on demand (27.7% of Internet users).
Audio music streaming continues to become more widespread. Half of Internet users listen to music in this way every month (53.5%), as many as those who consume it via physical media or a personal library (54.0%).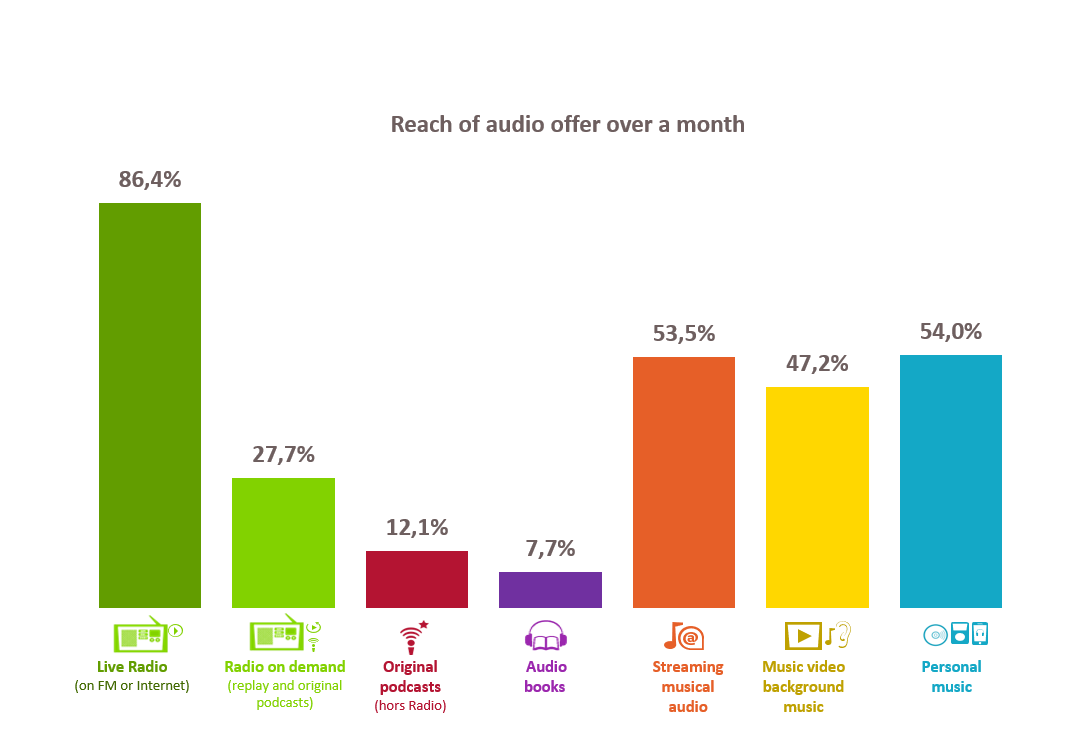 Radio is the most popular audio offering for music or "spoken" editorial content
New for 2021, the study now offers a distinction between the consumption of music - on the radio, streaming or via a personal library - and "spoken" editorial content, on the radio, in podcasts or via audio books.
Whether for music or "spoken" editorial content, radio is the most popular offering, representing 44% and 94% of usage, respectively.
More and more French people are being won over by podcasts
Nearly one third of Internet users (31.3%) listen to podcasts each month, a figure up 5.3 points in one year.
Podcasts are especially popular among young people: 1 in 4  podcast listeners are under 25.
An engaging format:    almost   half  of listeners (44%) say they recommend or rate the podcasts they listen to.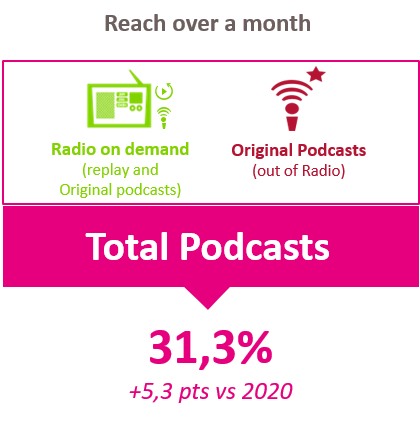 Please click on the icon to download the comprehensive press release. 
Download