E-commerce: Black Friday is on the 23rd of November!
NetLetter November 2018
Published on 22.11.2018

Given that discounted prices are generally now available throughout the year, will this year's Black Friday event beat the records again? And will internet users wait for Cyber Monday to make their purchases? We look back at the success of the 2017 event in three points:
1/ How much additional audience did e-commerce websites and apps attract?
During the 2017 event, 17.5 million French shoppers (i.e. 28% of the population) visited at least one e-commerce website or app on November 24th, i.e. 21% higher than the average daily audience for November.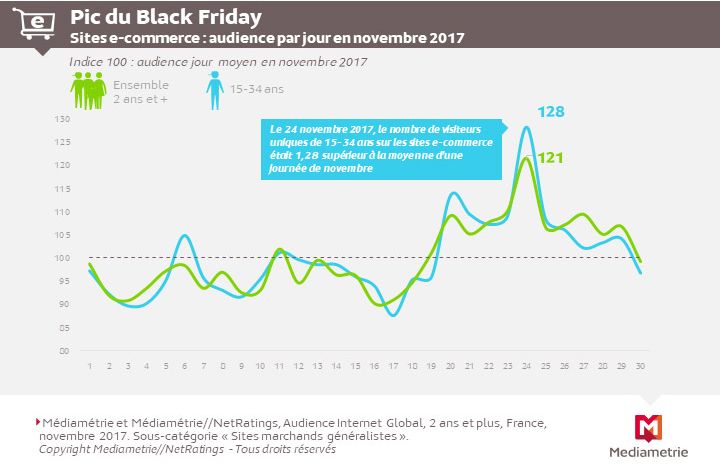 2/ Which web users are making the most out of Black Friday?
Those aged 15-34 are among the most involved in this event: 35% of this age group visited an e-commerce brand on November 24, 2017 (Black Friday), whereas on average only 27% of this group were daily visitors in November. Focusing on the 25-34 age group, we notice that they almost doubled the amount of their time spent on e-commerce websites on Black Friday compared to an average day.
3/ Which screen is used to uncover these deals and then make a purchase?
At a time when certain activities are headed in the direction of mobile-only, will Black Friday remain computer-first? In 2017, although 15-34 year olds on average browsed e-commerce sites on their mobiles over half of the time, November 24th was the only day that month when they spent more time on their computer than they did on their smartphone: 45% vs 41%. Was this screen better for unearthing the best deals on the products they wanted?
In 2018, clothing, footwear and fashion accessories were the leading products targeted by online shoppers on Black Friday and Cyber Monday, according to the study on purchasing intentions conducted by Médiamétrie for FEVAD. More detailed analysis of these particular days (time slots, queries typed by visitors, etc.) will be available as an ad hoc study at the end of December 2018.
Source: Internet Global, France, Base: 2 years and over, November 2017, Sub-category: "Generalist merchant websites" Copyright Médiamétrie and Médiamétrie//NetRatings
Contact: Lloyd Mullender, Research and Clientele Manager – Lmullender@mediametrie.fr