Computer Video Audience in France in September 2018
Computer Video Audience in France in September 2018
Press release
In September, 35-49 year olds spent 6h06 watching videos, i.e. half an hour longer than a year ago.
Published on 05.11.2018

In September 2018, 27.8 million web users watched videos on computers, i.e. 44.3% of the French population aged two years and older. On average, men watched 85 videos during the month, while women watched only 58. Within one year, the profile of video users has hardly changed, although some categories of the population (especially the 35 and older age group) are spending longer watching videos on computers. So, 35-49 year old video users spend an extra half hour per month engaged in this activity compared with September 2017, i.e. a total of 6h06 on average. Video users aged 65 and older have increased their monthly viewing time by 1h35 on average and now spend 3h50 per month engaged in this activity. They now account for 14% of the total time spent.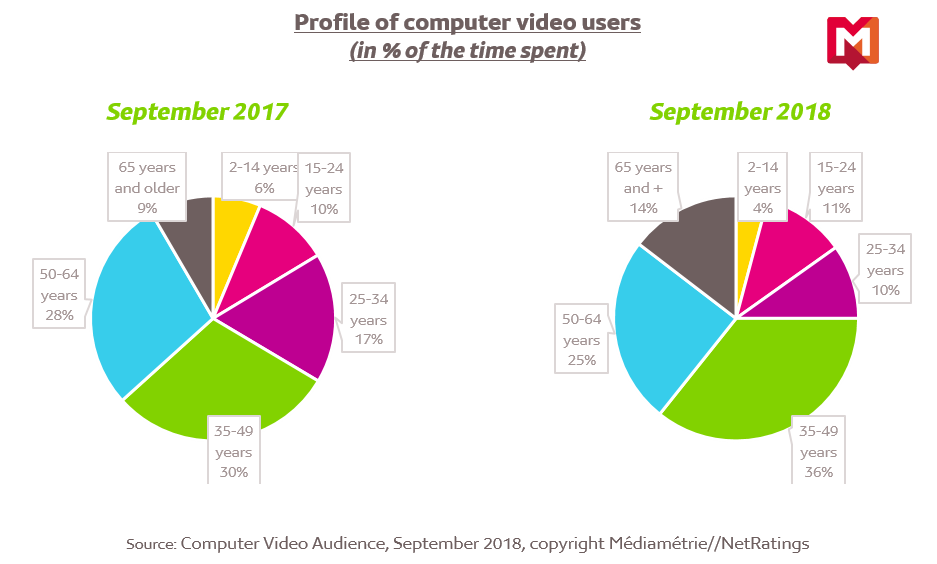 Please click on the icon to download the comprehensive press release.
Download