August 2021 podcast measurements
August 2021 podcast measurements
Press release
With almost 108 million listenings, podcasts continue to gain momentum
Published on 09.09.2021

Médiamétrie's eStat Podcast measurement counts the listens and downloads of podcasts of its subscribers on the scope taken into account by the measurement⁽¹⁾. The contents measured are the podcasts previously broadcast and/or native podcasts⁽²⁾.
Podcasts continued to shine in August
The strong trend of listening to podcasts observed in August (+26% compared to July 2021 and +37% in one year compared to August 2020) undoubtedly reflects the increasingly marked appetite of French people for this format. However, it is also linked to the expansion of the scope of the study, which now includes the measurement of all podcasts available through the websites and applications of France Inter and France Culture.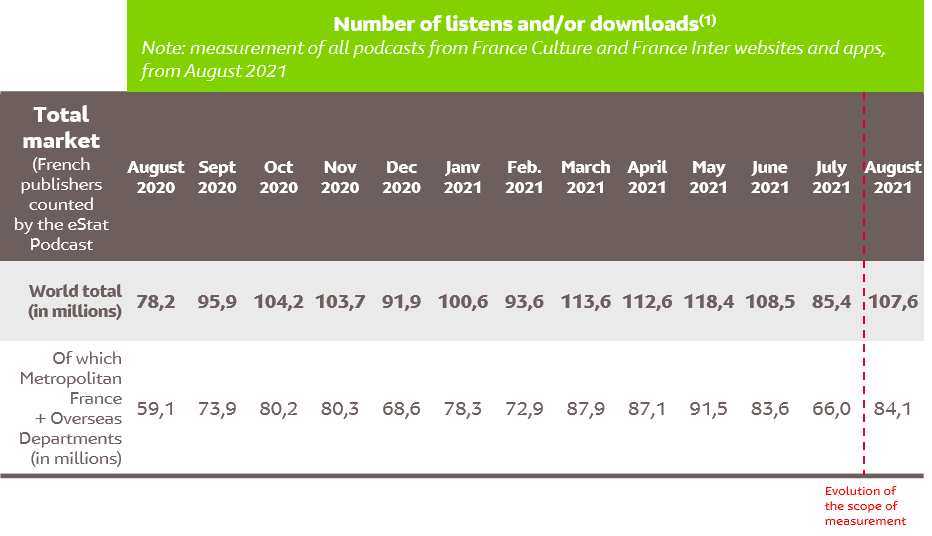 Source: Médiamétrie - eStat Podcast - June 2021 - Copyright Médiamétrie - All rights reserved
*Podcasts by French publishers counted with the eStat Podcast and listened to in France or abroad (World base)
(1) See the measurement methodology at the end of the release
(2) Native podcasts are original audio content not broadcast over the air, and produced by Radio stations or by other producers
**
Listenings
to podcasts from the websites and applications of
franceinfo
, France Musique, France Bleu,
Mouv
' and
Fip
are still partially measured
Please click on the icon to download the comprehensive press release.
Download