Ads: The new DAR standards over 4,000 campaigns to compare their performances
NetLetter November 2018
Published on 22.11.2018
Marketed in France by Médiamétrie//NetRatings, Nielsen's Digital Ad Ratings solution (DAR) is the standard independent measure for evaluating the exposure of web users to advertising campaigns. DAR measures the daily coverage, repetition and impressions of online campaigns based on 198 different targets across all screens (computer, smartphone, tablet). Since November 2013, more than 4,000 campaigns have been measured and nearly 500 different customers have been able to analyse the effectiveness of their media plan.
In another development, Médiamétrie's Advertising Solutions Department recently published norms for 2018 that can be used to compare the results from one campaign with every measured campaign in the last five years.
The addition of 9 new target norms brings to 55 the number of target options for campaign performance comparison.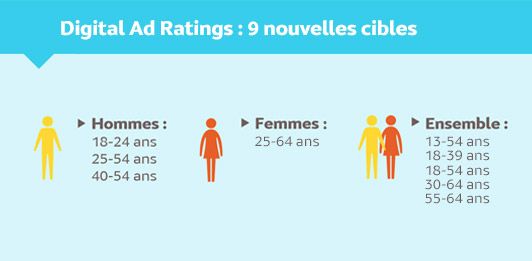 The 2018 norms highlight the increasing dominance of mobile. On average, 51% of an online campaign's coverage is now generated exclusively via mobile screens; and this proportion can be as high as 80% within some targets, especially younger people.
Contact: Eglantine Dever, Director of Advertising Solutions – edever@mediametrie.fr
Download